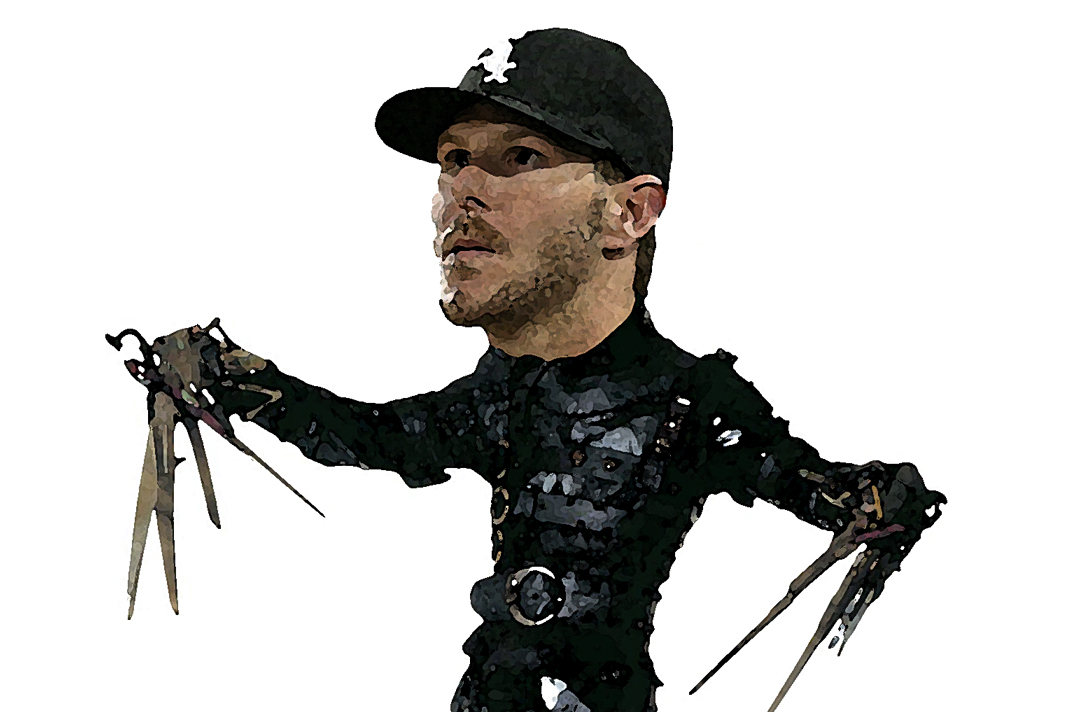 I suppose "bombs" might be a slightly overly-dramatic description for Sale's performance last night in his 3-1 loss to the Cubbies, but hey … one drama queen to another, right?
That's the problem with drawin' attention to yourself by bein' a complete douche bag. Everyone is watching and waiting for you to screw up. Not that he actually screwed up, but anything short of perfection after his Little Lord Fontleroy bit the other day doesn't cut it. And if anyone oughta know how to cut somethin', it's Chris Sale.
The real story was Mr Lackey, who was vintage last night, and a helluva lot more effective than Scissorhands. Yeah, I think the game probably qualified as a duel, but in the end it was the Lackmiester who filleted his 6′-10″ opponent into bite size chunks. Add to that the new Strop, Rondon, Chapman 3-headed bullpen monster and the Cubs (in the movie parlance thing) are startin' to look a lot like Jason Bourne.
Chapman definitely changes the dynamic. First, havin' him in the wings has gotta have some kinda super-power effect on starters. I mean if I know that all I gotta do is get through the 6th and the door is gettin' slammed in the face of the (ANY TEAM NAME HERE) well then it gives me some extra confidence. That's gotta make a dif. Second, if I'm Strop or Rondon, besides being ecstatic about makin' stupid money for throwin' a few pitches now and then, I still have the same basic job. It's just that my shift got moved up an inning or two. Third, havin' to face Strop and Rondon while also watchin' Chapman warm up is a sure fire way to deflate any misguided hope the (ANY TEAM NAME HERE) might get back into a game in the late innings.
You could see that happen tonight. You could literally feel that the decision has been made — the Cubs are winnin' the last game of the World Series this year and there's nothin' anybody, not King Kong, not James Bond, not Ironman and certainly not Sale Scissorhands is gonna be able to do about it.
Joe