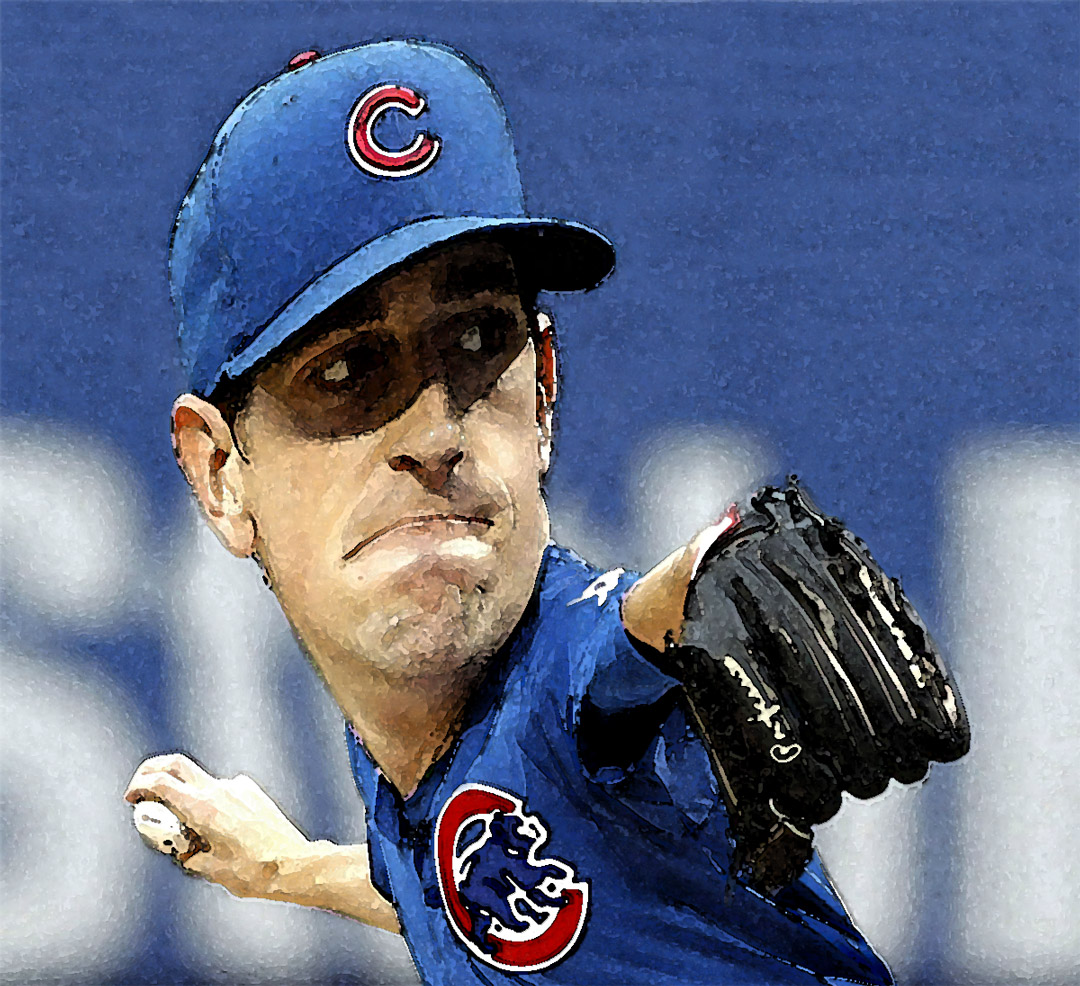 I just read Steve Rosenbloom's piece in the Trib, where he says "Kyle Hendricks is pitching like Jake Arrieta with a learner's permit." His words exactly … all the way down to the imitation road-to-the-White-House snarkiness. I'm not quite certain why he felt compelled to say that about the Cubs' best pitcher, but the piece reads like Rosenbloom keeps a life size blow up from Arrieta's ESPN The Magazine spread push-pinned to his bedroom ceiling.
To be fair, Rosenbloom does point out that Hendricks is "pretty close" to Arrieta in a number of stats, and that he "pitches efficiently and quickly" and has a brilliant changeup. He's also actually makin' an argument in an "excuse me" kinda way for why Hendricks oughta win the Cy Young this year. But man, you gotta read between the Arrieta syrup to tell. Almost every paragraph compares Hendricks to Jake, one statistic after another. And, hey … I wouldn't have an issue with that at all except for this: Rosenbloom is crunchin' this year's Hendricks numbers against Arrieta's last year. Is that kosher? Not in the Schlombowski deli, it's not. That's just a large, economy-size serving of twisted statistical crap with no pickle on the side. It's the same kinda shady comparison tactics used by this year's vermin-like presidential candidates. You might wanna just hang onto that $50 Pulitzer entry fee on this one, Steve.
This apples and oranges way of evaluating the effectiveness of anyone is beneath someone of Rosenbloom's journalistic achievements. I mean, we could just as easily compare the 2016 Arrieta against the '73 Tom Seaver, the '00 Pedro Martinez, the '69 Bob Gibson (among others) and paint a picture that makes Jake look like the bat boy. Hey, I got an idea, Steve, why don't we put the 2016 Hendricks up against the 2013 Arrieta? Or the 2012 version. Or 2011 or '10. The only true, honest, level-playin'-field comparison between these two hurlers this year is lookin' at this season's numbers. You do that and the balance tips in Hendricks's favor. Plus, there's no arguing the fact that Hendricks has picked up a lotta the slack created by Jake misplacin' his cape this year. That's not to say he hasn't had a solid year … he has. But it wasn't the other-worldly thing he conjured up last year, as you'll read in Rosenbloom's piece.
Hendricks came outta Spring Training desperately clingin' to the 5th starter role, while Jake was struttin' around Ho Ho Kam like the Cy Young winner he is. I woulda too, if I was him. And for the first couple a months of the season I'd have sworn we were watchin' instant replay of the second half of 2014. In fact, it wasn't until Arrieta started chatterin' about a $250M contract that the wheels started wobblin' on his wagon. Coincidence? I tend to think focusing on money 2 years before your contract is up puts demons between your ears, which is especially bad for pitchers cuz they're often borderline head cases already. He seems to have found his cape again, though. Which is good for everyone except whoever the Cubs face in the playoffs.
The fact is, the entire rotation has been mostly great, most of the season. And, with Lester, Hendricks and Arrieta we've got 3 of the most dominant pitchers in baseball. But Hendricks has gone from 5th starter to being the man behind the wheel … and it hasn't been with a friggin' learner's permit.
Joe