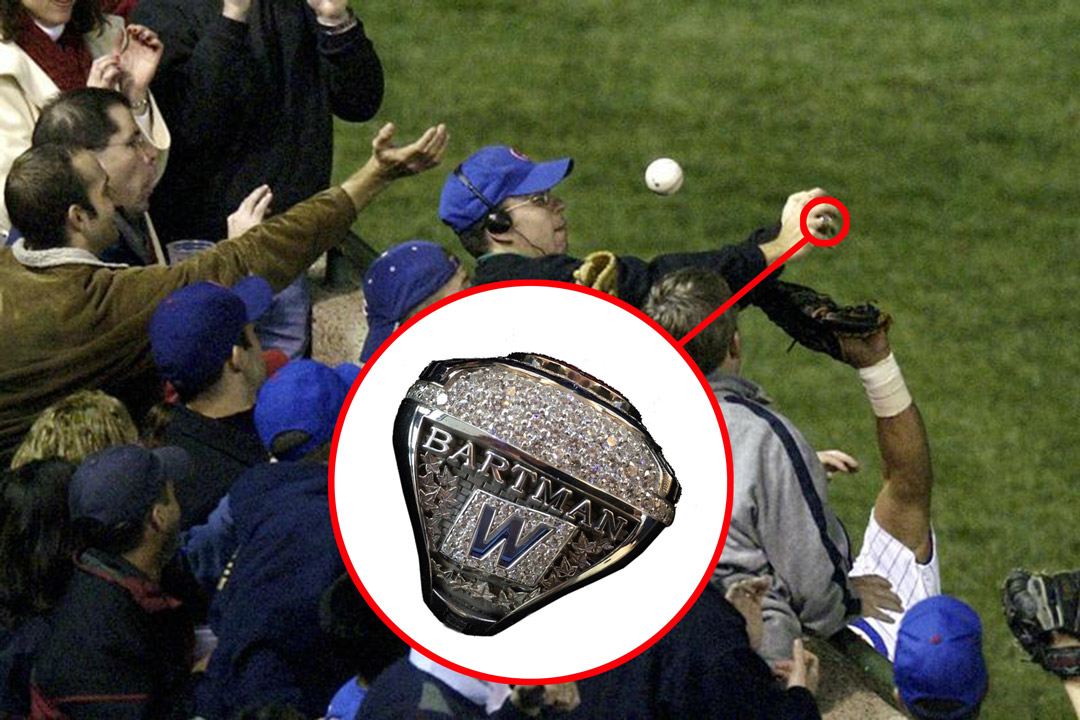 C'est la vie. Forgive and forget. Que sera sera.
That's the sound of the Chicago Cubs gettin' all moist over Steve Bartman, and handing over about a nine million carat diamond encrusted World Series ring to the guy.
WTF?!!!
And that's the sound of me, Joe "the elephant" Schlombowski — a nickname I got cuz I never, ever, ever, never forget. (Also cuz I'm tippin' the scales somewhere between 'hippo' and 'elephant'. "Round up," the missus always says.) Anyway, I'm standin' here scratchin' my noggin, wonderin' why … WHY … that human skid mark is gettin' a Series ring. Unless it's a Rodeo Drive kinda "thank you" for stayin' the hell away from the ball park during last season's Series run, I'm at a loss to explain it.
Not that any fan should get a World Series ring … but you're tellin' me there's not one other Cubs fan … not one … that's more deserving than Bartman, the guy who singlehandedly tacked on another 13 years of "wait until next year" to the longest losing streak in the history of sports?! There's not some 90 year old granny that hasn't missed a game since FDR was in the White House? None of the hawkers sweatin' out the Chicago summers in the Friendly Confines have any merit? Not a single, gear-wearin' human Cubs billboard who's faithfully returned, year after disappointing year, to drop thousands on seats, dogs, beers and nachos buried in that melted cheese crap have given more for a ring? And what about Bill Murray for chrissakes?!
Whatever Bartman deserves, it sure as hell ain't a World Series ring, my friend. A few things come to mind:
1. A unmentionable rash.
2. An atomic wedgie.
3. Six weeks on a desert island with the Village People.
3. A one-way, all expense paid trip to Syria.
4. Three minutes in a cage with Stipe Miocic.
5. Bullet ants.
6. A full body wax.
7. Eight non-stop hours on the "It's a Small World" ride at Disneyland.
And imagine if you're Bartman for a second; disguise and all. (Humor me.) Are you seriously gonna wear that damn thing in public? "Hey, look what I got for derailing the Cubs in 2003!" I would predict more death threats.
Full disclosure: Bartman didn't act alone. 2003's horrific collapse against the Marlins took some wicked crappy pitching and brain-dead play on the part of the Cubs for the wheels to come off. But Bartman was definitely standin' on the side of the road with a lug wrench in his sweaty little paws.
I guess this gesture by Cubs management is some sort of parole. Bartman has served 13 years for murdering a season — long enough according to Ricketts. And maybe he's right.
Then again, maybe he's not.
Personally, I'm still a big fan of an atomic wedgie for Bartman. Seems much more fitting than a World Series ring.
Joe
Next
LAST NIGHT MIGGY GAVE US A CARNIVAL RIDE. TODAY HE'S GETTIN' ONE OF HIS OWN.