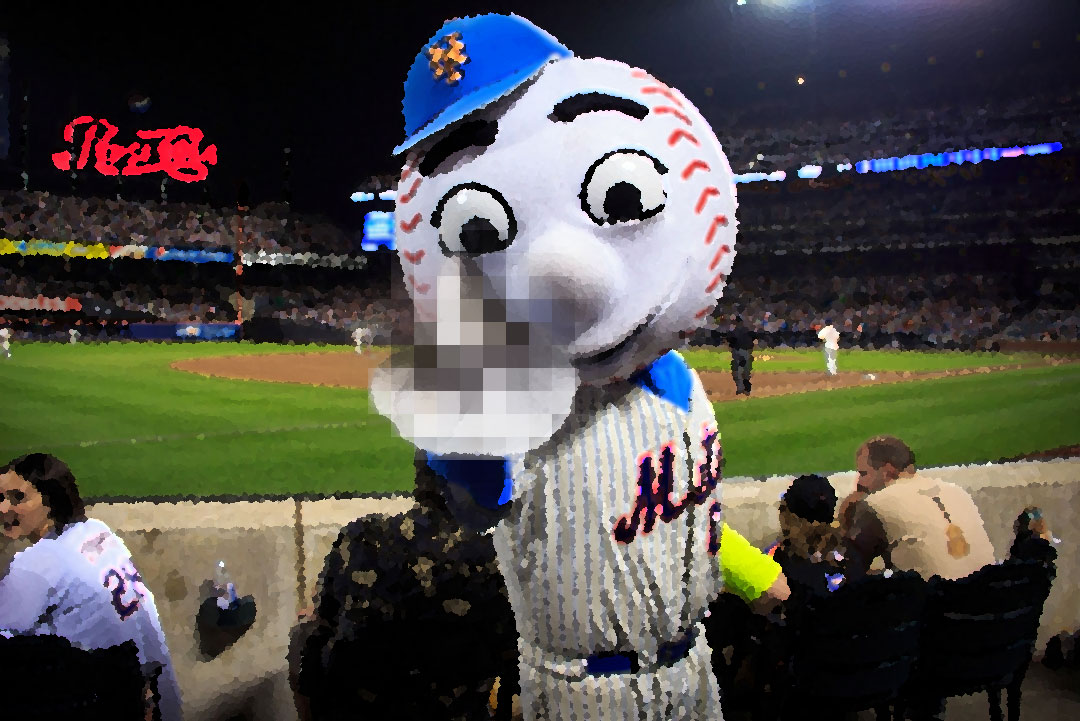 Hey there, sponge cakes. I got a question for ya: Is anyone over the age of six and a half, besides Lee Corso, a fan of team mascots?
Unless your team is the Penthouse Pets or the Playboy Bunnies, I can see payin' as much as zero attention to a mascot when I'm at a ball game. Okay, maybe if they passed out sling shots to the first 10,000 fans and painted a target on the San Diego Chicken (last name omitted for obscenity reasons) I could get interested. But other than that … no. So why am I writin' about 'em? Well, I just saw where Mr. Met has been relieved of his duties as one of the major annoyances in baseball for communicating in a non-verbal manner.
This makes absolutely no sense to me for the following reasons:
1. Mr. Met is a mascot. And like every other mascot that's been farted outta someone's brain, Mr. Met is supposed to be mute. How the hell else is he expected to communicate?!
2. I'm willin' to bet the Mets don't FedEx someone in from Walla Walla to wear that get-up. You gotta figure the guy is from New York — born and raised — and it's a well-known fact that New Yorkers learn how to flip the bird before the ink is dry on their birth certificates. So … in the words of every New Yorker since Henry Hudson, "What the fuck did you expect?"
3. One thing is certain: Whoever Mr. Met is, he's a total die-hard. Probably has a Daryl Strawberry tramp stamp. I mean who else is gonna dress up as a friggin' baseball and march up and down the Citi Field steps for the duration of the swamp-like New York summer? Combine that kinda rabid fanaticism ($3 word bonus) with the fact that the Mets are playin' about like the Cubs are playin' (they positively, totally, completely suck*) and you're gonna have some frustrations spill over in ways that aren't always ready for prime time. It's to be expected.
4. Mr. Met only has 4 fingers, not 5 like you and me. Actually it's 3 fingers and a thumb. But I ask you: How do you give someone your middle finger if you don't, technically, have a middle finger?
5. The guy flipped off a Mets fan, but if anyone deserves the bird, it's Mets fans. I'm still so sore from what they did to us in the playoffs a couple years ago, the Schlombowski man cave turns into a veritable aviary whenever we play the Mets.
6. Two words: Milton Bradley. When the monopoly guy was playin' for the Cubs, he musta given the Mr. Mets' high sign to the faithful a dozen times. This is a guy in uniform, mind you, and he didn't get booted. And keeeeeyyy-ryyyyyyssstt … if there was ever a guy even remotely associated with baseball that shoulda been pink-slipped, it was Bradley. And maybe Bud Selig. Rob Womanfred is a good candidate, too.
Some will make the argument that Mr. Met represents the ball club and, as such, flippin' off the fans casts a shadow over the organization. To which I ask, how do you back that up when there's been plenty of guys who smacked their wives around (Chuck Knoblauch, etc.,) or impregnated women in practically every major league city (Steve Garvey, etc.,) or were drug cheats (Barry Bonds, etc.,) — all much more damning offenses? How come nothin' happened to those guys? Are we to believe the Mets organization is classier than say, the Dodgers? Debatable, I grant you, but probably not.
Personally, I'd like to see the rule-happy Rob Manfred finally institute something that actually IS in the best interest of baseball and give mascots the Shoeless Joe Jackson treatment.
Joe
*Full disclosure: The Mets suck (music to my ears) mostly because of some key injuries. The Cubs, on the other hand, appear to have forgotten how to play baseball. Or they think winning a single Series is good enough … WRONG! Or they're more concerned with pickin' out their costumes for the next theme'd road trip.
Next
WHERE IS THE LINE BETWEEN DRESSIN' UP LIKE RON BURGUNDY AND PLAYIN' BALL LIKE HIM?