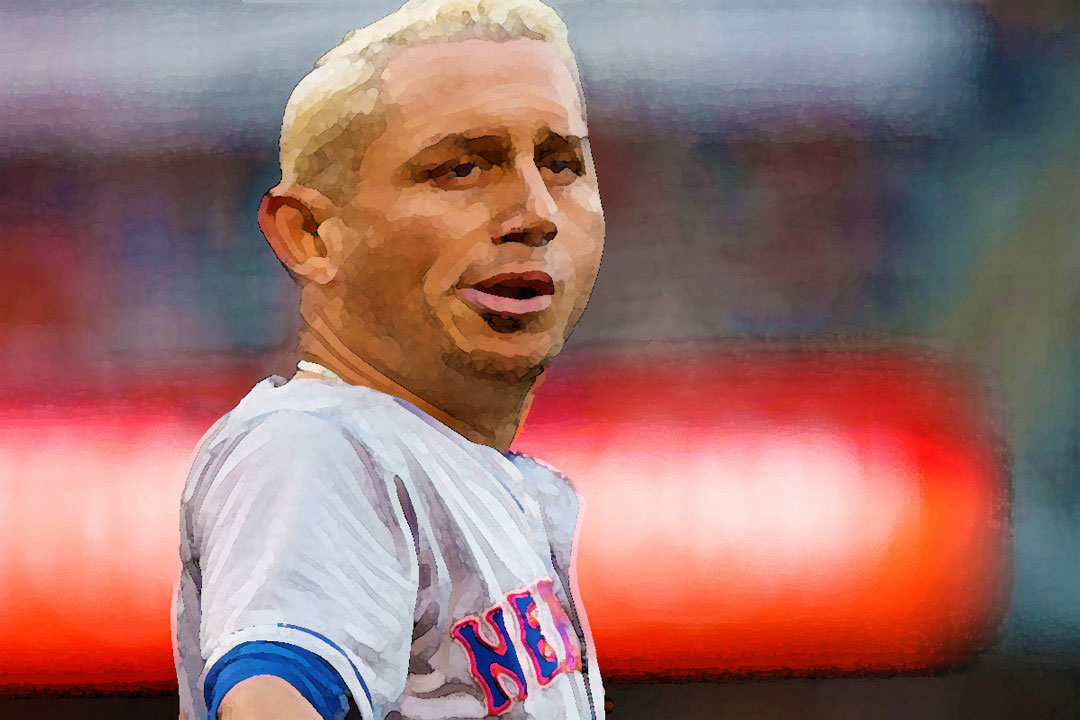 Hey there, double wides. What's shakin'? (Besides Asdrubal Cabrera's voice, that is.) The Mets activated the self-proclaimed center of the universe from the DL before yesterday's game and listed him as the starting second baseman. And what did he do? He got his jock strap twisted all up in knots, and started cryin' to the press about it.
Full disclosure: I don't have any first or even second hand knowledge that Asdrubal (Wouldn't his natural nickname be "Ass?") actually claimed to be the center of the universe. But any trouser snake that huddles the reporters to announce he's "not happy about the move to second base" and "has asked his agent" to facilitate a trade, thinks he's the friggin' big bang itself.
News flash, Asdrubal … you ain't no Ernie Banks, my friend.
He ain't Derek Jeter, Ozzie Smith or Cal Ripken Jr, either. And as much as I can't stand that gargantuan cheat, A-Rod, the fact of the matter is that he was a helluva good 6. Better than Asdrubal could ever hope to be … even in his wildest fantasies. (The baseball ones. Not the ones involving a whip cream-filled hot tub and every last model from the 2017 SI Swimsuit Edition.) In spite of how good he was, the Yanks still moved A-Rod to third. Did he go all Veruca Salt on 'em and demand a trade? No, he did not. He acted like he was part of a team. (He also acted like a total douche bag, but that's a whole other TMZ topic.) Anyway, the last time I checked, baseball was a team sport. Even the version the Mets try to pawn off.
This year's record aside, the team sport thing is a concept that the Cubs have perfected. Take third baseman, Kris Bryant, for instance. He spelled Rizzo at first yesterday, but you'll see him roamin' the outfield a lot, too. How 'bout Baez? He's a shortstop that plays second base, cuz we got Addy at short. He'll play third, too, like yesterday when KB was covering for Riz. Last year's World Series MVP, Ben Zobrist, was brought to Chicago to play second, but when Baez came along, Zo headed to the outfield, though still plays second, too. Contreras and Schwarber, both catchers, also play the outfield.
Now, you could load up Chicago's clubhouse with all the NSA spy shit you want, bug every cell phone, intercept the collective social media streams of the entire roster, and you ain't gonna hear a single whining peep about gettin' moved to whatever position. That's called team baseball. You do what's best for the team in team baseball, unlike whatever it is that Cabrera plays, in which he does — or at least expects to do — whatever is best for Asdrubal. Not only that; in a move that would put him at the top of his class at the Alex Rodriguez School of Douche Bags, he punctuates his ass-holian behavior by publicly announcing his dissatisfaction with the Mets' decision. He's gotta be a natural blonde.
So on one hand you've got former Rookie of the Year and NLMVP, Kris Bryant, playing first and left and right, instead of his natural position, third base, without turnin' into Kanye West. And on the other you've got Cabrera, a mediocre glove, an average bat, and an arm like my sister demanding to be traded cuz he's been asked to start at second base instead of short. Can you detect an attitude difference there? Any at all?
Joe
Next
THE 2017 CHICAGO CUBS' RECIPE FOR DISASTER.