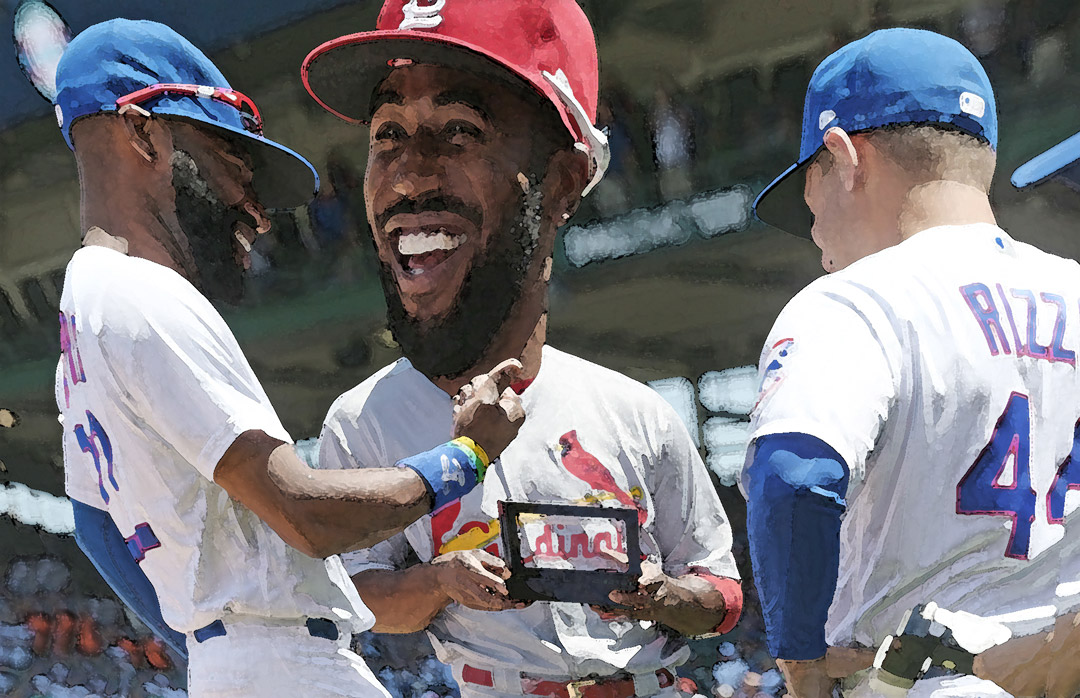 When Dexter "Benedict Arnold" Fowler returned to Wrigley yesterday you'd have thought Halle Berry was walkin' through the aisles naked handin' out $100 bills. The place went full on Mt Vesuvius. It was almost as if he'd stepped onto the hallowed grounds of Wrigley Field and right then and there … on the spot … accessed the public address system to announce that he was activating some sorta double-secret Jared Kushner back-channel clause in his contract that returned him to the Cubs for the duration of the season.
Did he do that? No.
Still, the Cubs faithful made a spectacle outta Fowler's return to Chicago — a guy who not only chose to leave a World Series Champion team, he defected to the baseball equivalent of ISIS. At least to the Cubs. If you're a real Cubs fan — not the safe-spacing, snow flake, powder puff kind that marches to Katie Perry's "just unite and love on each other" mantra — then you know that in spite of all the great crap Fowler did for us last year, he's dead to us now. That's why yesterday's fan reaction boggles my Old Style altered mind.
When Anakin Skywalker became Darth Vader, did you see the Rebel Alliance embracing him when he came back to deal with that whole Dantooine thing? No, you did not. But yesterday, when the Cubs presented Fowler with his World Series ring, they did everything but have the Blue Angels buzz the friggin' stadium. I grant you, he earned it. But if the ring exchange had been planned by me, 1) it woulda only happened if Theo had put a gun to my head or threatened to make me eat ketchup on my Chicago dogs and 2) I woulda placed his Series bling in plain sight somewhere in Garfield Park and invited Fowler to a game of Finders Keepers.
And the fans? They were just as goo-goo-eyed. They delivered an ovation for the ring thing, and then another one when Fowler goes yard in the first off Lackey. SERIOUSLY?! You're gonna cheer a guy hittin' a home run against us? And of all people a St Louis Cardinal?! In-friggin'-credible. That's like throwing a parade for Osama Bin Laden or inviting Kim Jong-un over for Sunday Night Baseball. You never ever ever never EVER cheer for a Cardinal. Ever.
Now I know trades go both ways, and when we raided the Cards lineup before last season, I was plenty happy about that. Still not gonna throw any parties for St Louis … but a thank you note? That might have been appropriate. I can' t imagine any die-hard Cardinals fans were firing up a Cuban or turning cartwheels, though. And I don't blame 'em. Hating your arch rival is like jock itch, moronic questions from the media, and $14 Budweiser — it's part of sports. The size of the rivalry should dictate the amount of prescribed venom. It goes something like this:
H = rc²
That's the Joe Schlombowski theory of relativity, where hate (H) equals the rival (r) times the speed of light (c) squared. And lemme tell you, pallie, when you multiply St Louis by the speed of light squared, you get a number that's light years away from givin' Dexter Fowler a friggin' ovation.
This whole thing raises a number of questions: What kind of a Cubs fan would cheer for a Cardinals player? Should they be summarily ejected? Should fans be required to submit to random "fan testing?" Should that test be multiple choice, essay or both? Should failures be reported to the proper authorities? Who are the proper authorities? If there are proper authorities, doesn't that imply that there are improper authorities? If John Mellencamp were to fight these particular authorities, would they still win? What happened to John Mellencamp? Why did he drop the "Cougar" from his name? Is a cougar the same thing as a MILF? What does "summarily" mean? I'm definitely going to lose some sleep over this.
Joe