· 2017 Cubs, Instant Replay, Joe Sez · 2002 All Star Game, Bob Nightengale, Bud Selig, Chicago Cubs, New York Yankees, Noah Syndergaard, Opening Day, Playboy, Rob Manfred, St Louis Cardinals, Tampa Bay Rays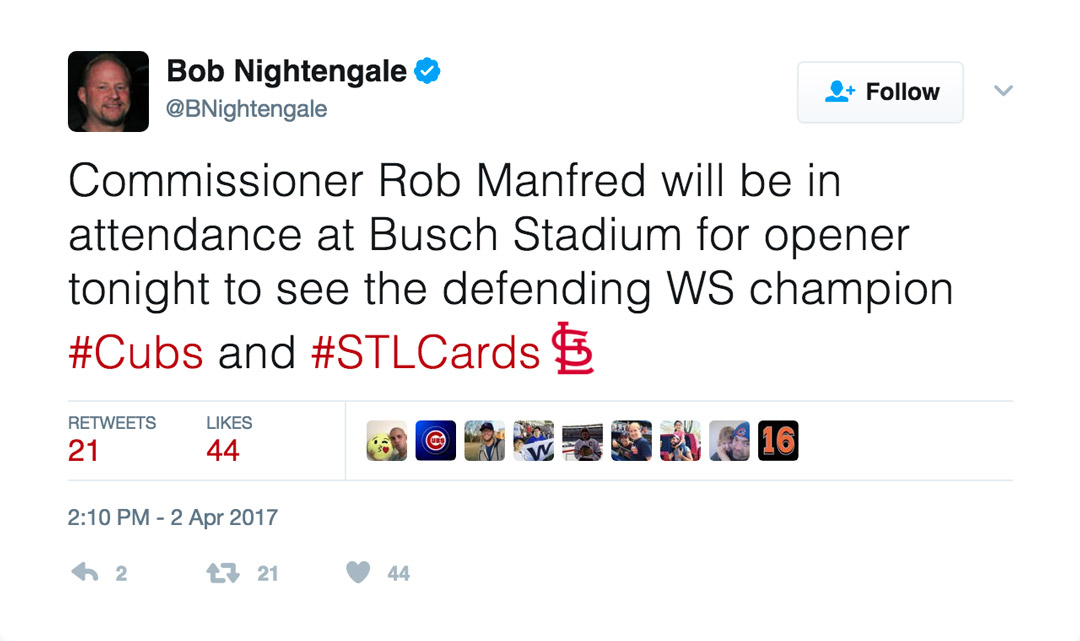 Hey there, sponge cakes. Welcome to Opening Day — not Opening Week, as baseball has taken to calling it. That's gotta be a Manfredism. Speaking of which … Bob Nightengale reports that commissioner Rob Womanfred will be in attendance at the Cubs opener in St. Louis tonight. My question is: When does he adios the game? I figure it'll be after the 7th, cuz that's how long he thinks major league games oughta last.
I tend to pick on commissioners, and Manfred is no exception. But, hey, they bring it on themselves. Bud Selig, for example, decided to end the 2002 All Star game in a tie. It's baseball. There are no ties. And that "World Series home field advantage to the league that wins the All Star game" rule was his, too. I'm tellin' you … listening to baseball commissioner ideas is like walkin' your dog — you gotta bring a plastic bag along to pick up all the turds. I'll give this to Manfred: the guy flushed the ASG/World Series advantage brain fart. But that's it on the plus side of the Manfred board. Everything else he wants to do — most of which revolves around makin' games shorter — screws with the fundamentals of baseball.
Some people want shorter games. Yeah, I read about that all the time. But I ask: Who are these people? Are they millennial types raised on iPhones, video games, and blaring music so loud during any break in the action that it makes my toenails hurt? I think maybe so, cuz I don't hear people my age complaining about watchin' a game for 3 hours. (Except for Mr. "if it ain't broke, fix it anyway" Womanfred.) I'd even be willin' to bet that it was Robbie's idea to broom the nudie pictures from the pages of Playboy — another institution that didn't need to be "improved." I'll tell ya … if congress wants to investigate something that's truly un-american … that would be it, my friend!
Point is, maybe it isn't baseball that needs fixing. Instead, maybe it's the binge-watching, instant-gratification, short-attention-span generation that can't spend four seconds away from their social media feeds without breakin' out in a sweat that needs fixing. Baseball has been around for like a million years, and other than stupidly not lettin' black players in until Jackie Robinson, it's pretty much been perfect. It doesn't need the pathetic DH. It doesn't need instant replay … especially when the umps still can't get it right. (See today's Yankees-Rays opener.) Baseball doesn't need a fake intentional walk, or a protective bubble around middle infielders, or a special purpose rule puttin' a guy on second in extra inning games. And it SURE as hell doesn't need two innings clipped off the tail end. If anything in baseball needs to be clipped, it's Rob Manfred's self-important wings and Noah Syndergaard's goldilocks. Other than that, unless you wanna make American League pitchers man up and take their swings, or turn that F-ing head-banging noise off between batters, or hire the displaced Playboy models as bat girls, we should just leave baseball the hell alone, pallie.
Of course, I could be wrong. But I'm not.
Joe