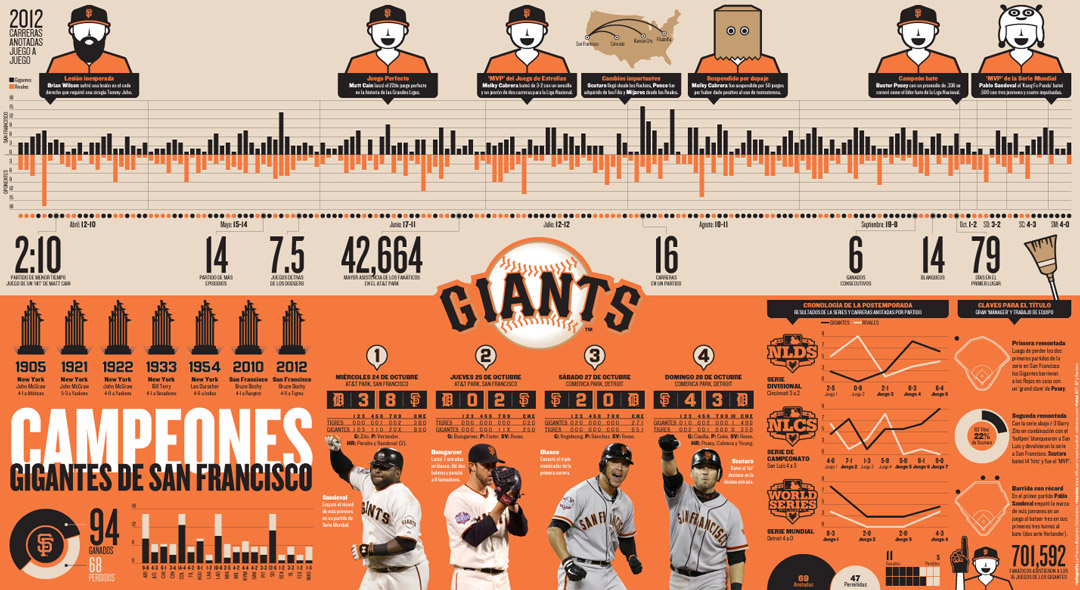 The Cubs are in San Francisco for the start of a 3 game series with the halloweenies. Given that english is now a second language in California, this probably won't be necessary, but I'd like to point out right now that Arrieta is Spanish for "no hitter."
San Francisco's AT&T ball park — home of the Giants — is where Mr Arrieta will be notching his 8th win tonight. I hate to admit this, but I have a soft spot for the Orange and Black. It's cuz they so dutifully rolled over for our broom last August, almost single-handedly ensuring the Cubs' spot in the playoffs. Mind you, this soft spot is very tiny … and it's not located in my heart, like most soft spots. It can be found on the caboose of my digestive tract, my friend, which always makes me think about Barry Bonds, and is why I'll never forget who's soft spot it is.
Excuse me while I meander back over to my original subject — AT&T ball park. I've been there a dozen times or so over the years. Meh. You'll hear people from the Bay Area talkin' about it like it's a friggin' holy shrine to baseball, cuz it supposedly has characteristics of the pre-Astrodome era. Personally, I'd say that if Wrigley is the Friendly Confines, then AT&T is the Hair Salon. It's all a little to polished and schmick — not that it doesn't get properly trashed during a game — but it's missing whatever it is that Wrigley and Fenway have that make you feel like you've gone back far enough in time that baseball is still a game. Before free agency. Before ball girls and designated hitters. Before $14 beers, and idiotic mascots, and obnoxious music blarin' so loud it almost breaks my ear drums. And certainly before Rob Womanfred's nad-clipping 2nd base slide rule. AT&T sits squarely in the middle of "right now." It's a ball park. Nothin' more, nothin' less. Where it's got it over Wrigley, though — and you have no idea how nasty these words taste in my mouth — is the 3 World Series Championships that have been hosted there. Credit where credit is due, pal. Still, the steroid inflated cheat, Barry Bonds played there, which in my mind sorta cancels that out.
They also serve lattés at AT&T. This, my friend, is like servin' caviar and champaign at the rodeo. I mean you're there to watch a friggin' baseball game, not the Yves Saint Laurent fall collection at Fashion Week. This is not to say they don't put out some damn fine, artery-chokin' ball park junk food at AT&T. They do. My personal fav; a Sheboygan brat from Doggie Diner on the Promenade level. I recommend takin' it to where they serve that melted cheese crap, slippin' a fiver to the staff, and having 'em drown the brat in it. You may have to go to 2 or 3 until you find someone who wants to play ball, but it's damn well worth it.
Anyway, it'd be real nice of the Giants to do an encore performance of last season's August series. Might have to write a thank you note to Brian Sabean, Bobby Evans and the rest of those yay-hoos over there if they do. Better yet, I could send 'em a gift certificate to somethin' like Hot Dougs or Pizzaria Uno, so — with all due respect to everyone who thinks San Francisco is foodie central — they can find out what real food tastes like.
Joe