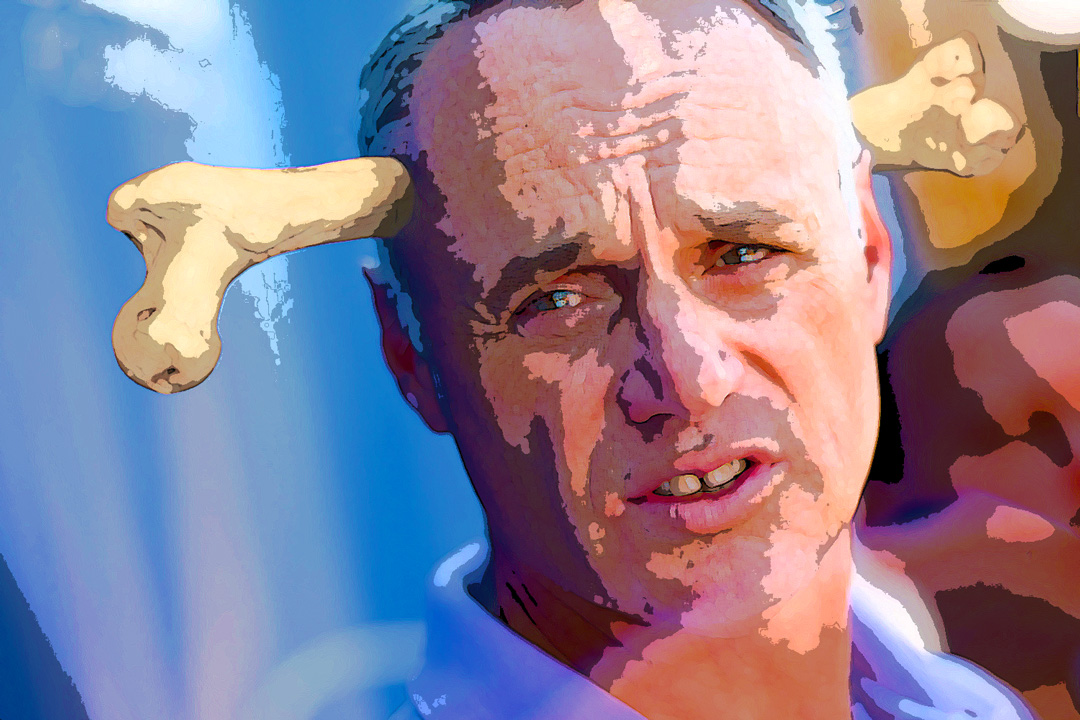 Greetings and salutations from the glow of the cheap seats, fellow Cubs fanatics, where I still bask in the Cubbie blue afterglow of a World Series championship. It's like sex … only it smells like leather, cheesy fries and beer. Actually, that would be sex for Cardinals fans. But I digress.
One might think winning the last game of the playoffs would take the edge off the Schlombowksi razor. And one would be correct. Right up until Rob Womanfred poked his head outta the backside of his jackass.
That's right, sports fans. Manfred is back at it — attacking the perfection of baseball by tryin' to institute pinheadian rule changes to "speed up the game." Thankfully, just one of his brain farts snuck through this season, leaving Robby Boy foaming at the mouth in frustration with the MLBPA.
This new rule is a perfect illustration of just how friggin' constipated Manfred's whole speed-up-the-game movement is. According to ESPN's Howard Bryant, Major League Baseball plans to use a dugout signal in place of issuing four balls for a intentional walk this season. If you look at the numbers you'll see that eliminating the 60 seconds saved by not actually, physically throwin' 4 balls is like takin' a bucket of water outta Lake Michigan. If the average game is 3 hours long, that 60 seconds represents 1/2 of 1% of the time it takes to play it. Wow! Brilliant move, Baseball. I can only imagine how the Gross National Product is gonna soar with all that extra time that won't be wastin' on a ballgame. Friggin' genius.
This whole thing reminds me a Star Trek episode, appropriately titled, "A Taste of Armageddon." During this episode the crew of the Enterprise visits a planet whose people fight a computer-simulated war against a neighboring planet. Even though the war is just pretend, the citizens of each planet have to submit to real executions inside "disintegration booths" to meet the casualty counts of the simulated attacks.
Well, this walkin' guys without walkin' guys is the same kinda thing.
It's complete donkey doo. It doesn't speed the game up (as if that needed to be done anyway) in any noticeable way, and it robs fans of the chance … the possibility … the anticipation that some yay-hoo pitcher with the control of a young Randy Johnson tosses one of his pitches to the backstop. Pathetic.
If you really wanna improve the game of baseball, consider gettin' Manfred together with one of those disintegration booth thingies.
Of course, I could be wrong. But I'm not.
Joe