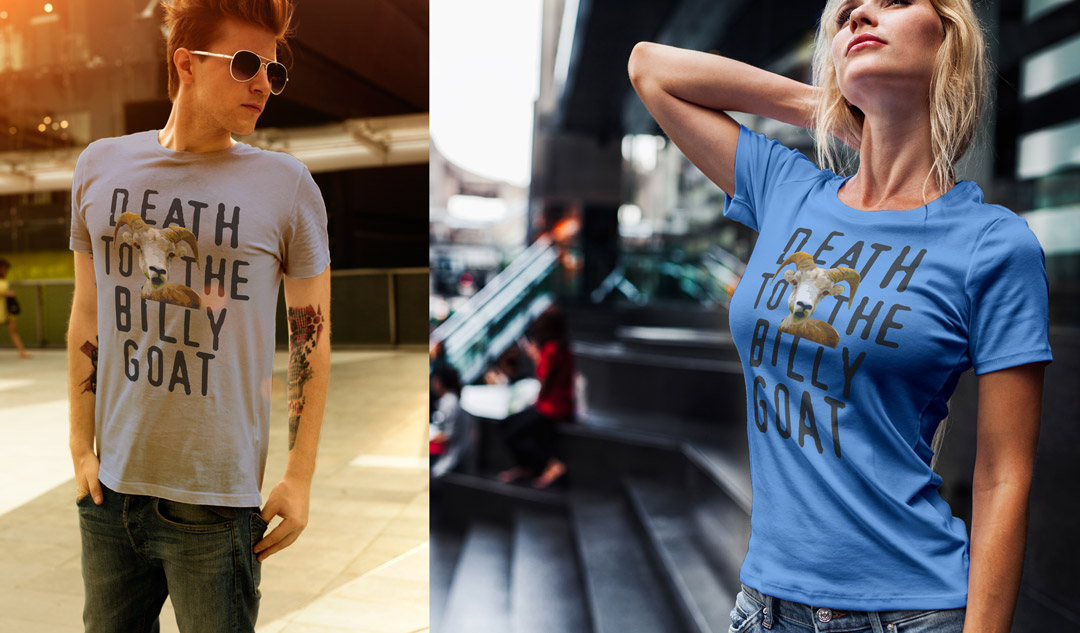 The curse of the billy goat has lasted longer than Aunt Beulla's fruitcake, so it's about friggin' time to throw it on the bar-b-cue once and for all. You can do your part by sportin' a Joe Goat-Tee. That means ladies, too. Order yours now. Seriously. Don't even bother readin' the rest of this, just swat that link back there like a hangin' curve ball from Clayton Kershaw. You'll get the full Shopify experience — quick, painless and made for the Cheap Seats.
Plus, by ordering one of our Tees, you'll be throwin' down a little positive karma for the Cubs — somethin' that can't hurt — and you'll look like a hundred bucks! Of course if your reflection looks something like Blondie, here, you could throw on a gunny sack and still turn heads.
Our shirts are a 50% Polyester, 25% Combed and Ring-Spun Cotton, and 25% Rayon combo, which makes 'em softer than Rob Manfred's head. That means they're incredibly comfortable — somethin' that's gonna feel really nice against any Cubs fans' skin which — after 108 years of futility — is the toughest hide in baseball. Or any other sport for that matter.
Currently available in Wrigley Sidewalk Gray for men, and Northsider Blue for women. Remaining stock is extremely limited. Order your genuine Joe goat-tee today.
Go Cubs!
Joe