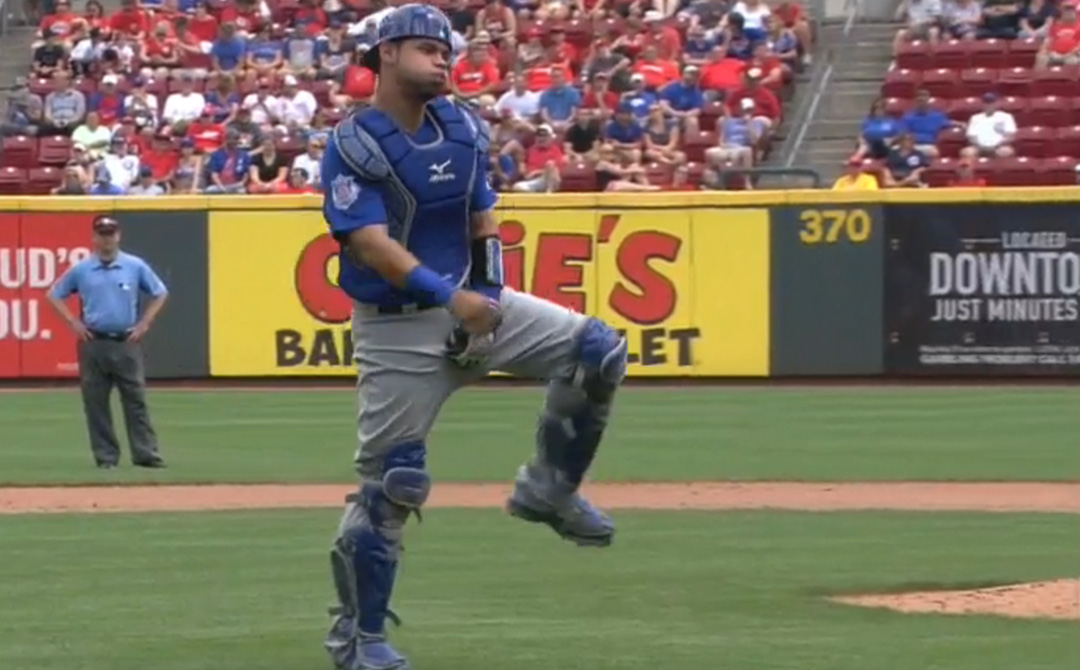 Gettin' smacked in the jewels is no picnic. It's not even a leftover bowl of little Doritos scraps, so I can only imagine how Willson Contreras musta felt when he got a foul tip off of his foul tip. I money-back guarantee you that every single guy that saw that play made one of those "ouch" faces, with teeth clenched, and where the eyes squint like somebody just emptied a couple of lemons in 'em. It's a universal reaction to seeing that happen to somebody, cuz we've all been there. Maybe not with a baseball, but if you hit ground zero with a bean bag, it's gonna hurt.
What's not universal is the way Contreras was breakdancin' all over the infield tryin' to shake it off. That was totally new territory, my friend. Most guys — like 90 out of a 100 — are just gonna go fetal position. Another 9 are gonna LeBron James it — whaling like the Mountain just whacked off an arm or something. Contreras, on the other hand, looked like he was tryin' to get a shot on Dancin' With the Stars, shakin' and bakin' like the boogie woogie bugle boy. It's only a matter of time before somebody with not enough to do sets it to music and throws it up on YouTube. Can't wait.
The weird thing about this play — and I think this is universal, too — is that about 6 seconds after it happened, and I'm finished makin' my "ouch" face, I started to laugh. Yeah … like I already said, it hurts like a (nasty word of choice here). As guys, we know that. But if it ain't you, it's funny. Especially with that Jupiter Walk (like the Moon Walk only way way further out in space) Contreras laid on us.
Anyway, I felt bad for him. As bad as everyone in the Cubs dugout, anyway.
Joe
Next
WHO NEEDS TO FIND BOBBY FISCHER WHEN YOU'VE GOT JOE MADDON?