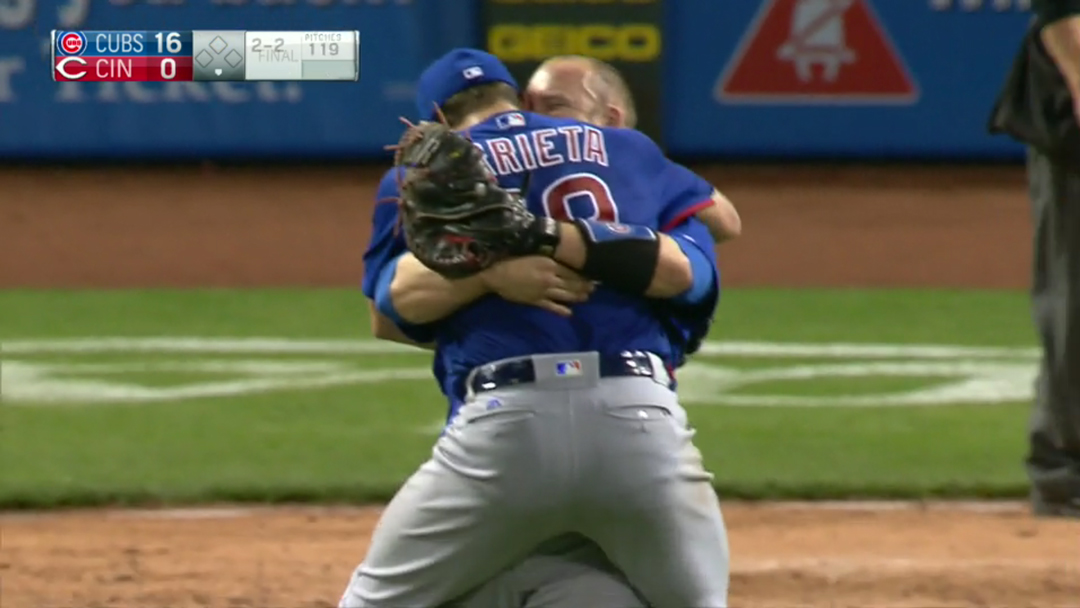 As noisy as the Cubs bats were tonight — and it was like a friggin' Linkin Park concert on steroids — they couldn't quite drown out the silence of Cincinnati's, who failed to produce a single base hit (not a little squib, not a dying quail, nothin') against the super-hero arm of Jake Arrieta. You've heard of the zone? Well, wherever the hell that is, Jake's smack dab in the dead center of it.
To be honest, I felt a little sorry for Cincinnati tonight. I mean, not sorry enough to feel bad; sorry in a way that I wanted to spare them the embarrassment of stepping into the batters box against this guy right now. Plus, it was just a colossal waste of time. It woulda been easier for everyone if, instead of stepping into the batters box, they just penciled in a strike out, or weak ground ball or pop out in the score book and then headed back out on the field. (Probably would have made Rob Manfred, MLB's official time-keeper, happy.)
Likewise, instead of pitching to the Cubs tonight, it woulda been easier if Finnegan had just turned around and thrown the ball into the gap, or over the fence or something. 16 runs on 18 hits. In tennis that would be called "abuse of ball." Love it.
I feel like I oughta be drooling over the offensive production more, and normally I would. But holy crap!, Arrieta has 2 no-no's in his last 11 regular season starts. And … AND … the Reds haven't been no-hit in the regular season since 1971, which I'd guess is long before most of you were born. That's 7,110 games.
And tomorrow, we get to play these guys again.
Joe
Next
REDS VS. CUBS: 4 DAYS IN APRIL.