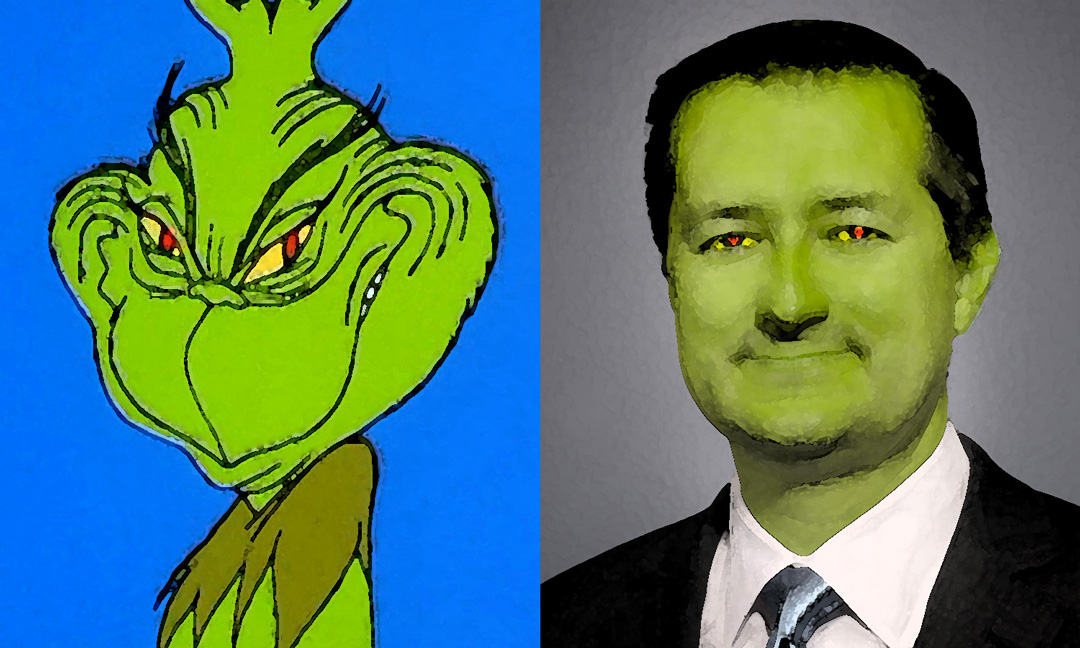 Christmas is a time of good cheer, right? That is unless your name is Tom Ricketts, owner of the Chicago Cubs, Grinch look-a-like, and the guy who put the 'dick' in Dickens.
If you unearthed every single last chunk of coal in the entire state of Wyoming and hauled it to Chi-town, it still wouldn't be enough to fill Tom 'Ebenezer' Ricketts's Christmas stocking. Not even close. Best you could do would be to marvel at how the black of the coal is no where near as dark as Ricketts's microscopic little heart. Assuming he has one at all.
That's right, sports fans. This week, the Cubs announced that they'll be raising 2017 ticket prices by an average of a smidge under 20%. Merry friggin' Christmas. With that move, Cubs owner, Tom Ricketts — the man who brought an end to 108 years of the Chicago blues — revealed his true colors. And what an ugly friggin' rainbow it is, my friend.
You're a mean one, Mr. Grinch,
You really are a heel,
You're as cuddly as a cactus, you're as charming as an eel, Mr. Grinch,
You're a bad banana with a greasy black peel!
This special Ricketts box of Crayolas contains the following:
1. The aforementioned black. In this case, an inescapable black hole shade of midnight reserved for only the greediest, meanest, nastiest of hearts. Again, this assumes there's something heart-like in this guy's chest.
2. Gold; as in what already lines every nook and cranny of Ricketts's pockets. (What the hell is a 'cranny', anyway? It sounds painful. Whatever the hell it actually is, I'd like to Garo Yepremian my right foot smack into the center of Ricketts's.)
3. Green. But not just any green, mind you. The Benjamin, Hamilton, Washington and other dead presidents kinda green, soon to be migrating from the accounts of Chicago Cubs fans' to the overflowin' coffers that are already straining to hold the Ricketts fortune.
You're a monster, Mr. Grinch,
Your heart's an empty hole,
Your brain is full of spiders, you have garlic in your soul, Mr. Grinch,
I wouldn't touch you with a thirty-nine-and-a-half foot pole!
You know, for about a month there the guy had to be on the very tip top of Santa's "Nice" list, havin' brought so much joy to so many people after so many years. Not now, pallie. If I'm Santa, I'm spikin' the reindeer's preflight meal with enough Exlax to evacuate the collective GI track of a herd of elephants, then I'm establishing a holding pattern over Ricketts's house about 2 hours later. I mean, half the city is STILL wearin' its World Series grin. Hell … I'm one of 'em! So what does ownership do? They give us baseball's version of the ice bucket challenge. I can just see Ricketts sittin' behind his big ol' desk, wringing his sweaty hands like Mr Potter, and sayin', "Alright, alright, they've had enough time to enjoy themselves. It's time to make some money off these suckers."
You're a foul one, Mr. Grinch,
You have termites in your smile,
You have all the tender sweetness of a seasick crocodile, Mr. Grinch,
Given a choice between the two of you'd take the seasick crocodile!
I get that baseball is a business … supply and demand and all that kinda crap. And they gotta reinvest in the team if they're gonna keep this crew together long enough to win one or two more trophies. Plus, the Cubs are damn good. They're gonna draw. There's just no arguing with the fact that tickets are gonna be a hot item next season. Should prices go up? Yeah, probably. But 20%? Are they gonna be 20% better than they were this year? No, they are not. They'd have to win 124 games to do that, and unless everybody else plays with 7 guys or without gloves or somethin', that just ain't in the cards, pal. Ricketts is gonna put essentially the same product on the field next year but charge us 20% more to go see it. Friggin' Scrooge, man. I didn't see the guy droppin' prices in 2013 after we lost over 100 games the previous year. How come the door never ever ever never swings in the other direction? Cuz of guys like Ricketts, that's why.
You're a rotter, Mr. Grinch,
You're the king of sinful sots,
Your heart's a dead tomato splotched with moldy purple spots, Mr. Grinch,
You're a three decker sauerkraut and toadstool sandwich with arsenic sauce!
In closing, I'd like to once again (cuz I have already) thank Tom Ricketts for bringin' Theo, Jed and Joe to the Northside. Without them we'd still be the Chicago Cubs instead of the World Series Champion Chicago Cubs. Seriously, I'm grateful. But Tom, if by some magical reason you're readin' this, I also want you to know that you can take your Grinchy attitude and stuff it right back up your chimney with glee, pal. Why? Cuz the average Joe — guys like me who already have a tough time affordin' a few games a year — won't be able to go to any, now. Or at least fewer. So thanks, dick head. You not only stole Christmas, you've stolen the pleasure of goin' to the ballpark, too.
You're a foul one, Mr. Grinch,
You're a nasty wasty skunk,
Your heart is full of unwashed socks, your soul is full of gunk, Mr. Grinch,
The three words that best describe you are as follows, and I quote,
"Stink, stank, stunk!"
Joe
PS. "You're a Mean One, Mr. Grinch" was written by Theodor "Dr. Seuss" Geisel. Genius. Friggin' genius.