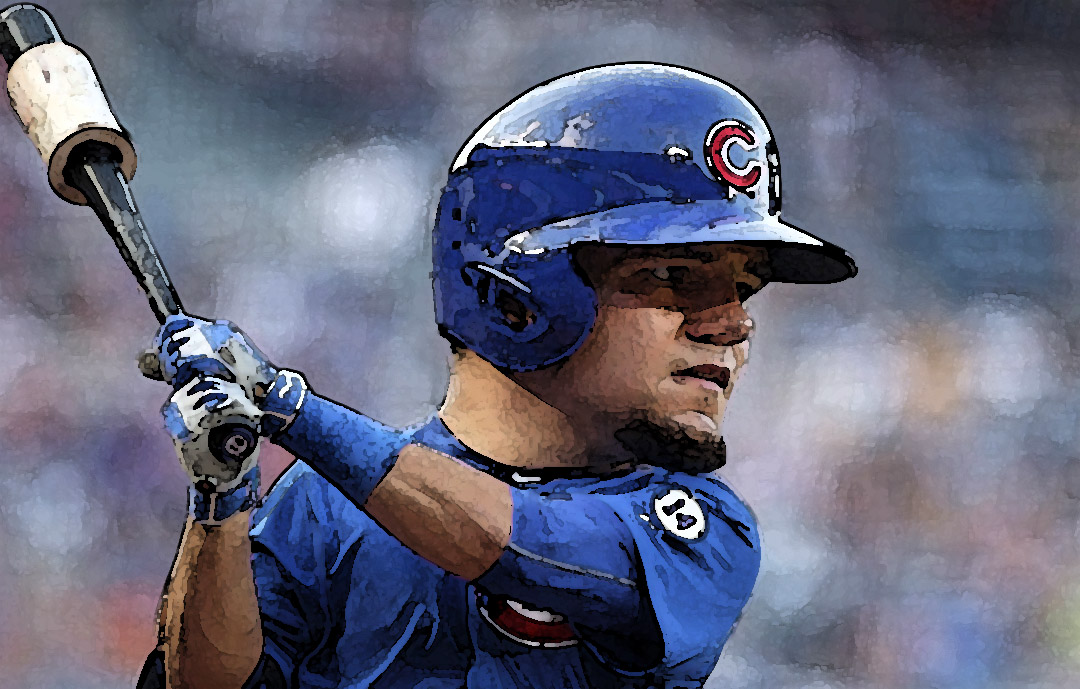 Hittin' a Major League worst .171, it's no wonder there's a cast on Schwarber's bat.
Word is out this mornin' that the Schwarbmeister is headed to Iowa to see if that's where he left his swing. A temporary setback for the Kyle-driver and the Cubs, but maybe a good thing, nonetheless. Funny how a guy can lose his swing in Chicago and find it in Des Moines. Somebody oughta invent a Find My Swing app or somethin', where if you're normally the spittin' image of Babe Ruth, like Schwarber, but then somehow turn into Mario Mendoza, you just open the app and — presto — there's your swing! In the corner of the friggin' dugout the whole time!
Or maybe there could be some kinda lost-and-found for stuff like swings, exploding fastballs, command of the strike zone, or your gold glove — whatever happens to be missin' and because of that has turned, say … the former human no-hitter, Jake Arrieta, into the current no-way-he's-gettin'-a-$250-million-contract Jake Arrieta. If we had one of those, Schwarbs could just go rummage through the big, overflowin' box of sun glasses, cell phones, umbrellas and the occasional folded and dog-eared picture of Scarlett Johansson and … voila! … the swing! Findin' it there would always be a huge relief cuz there are a ton of guys who, if they happened across Babe Ruth's swing lying around, wouldn't turn it in. They'd show up at a Major League tryout tryin' to pawn it off as their own.
Isn't that right, Mets fans?
Anyway, Schwarber is on his way to Field of Dreams country. Hopefully it won't be too long before he starts hearin' voices — something on the order of, "If you come, we'll rebuild it." Seems like if you can get a bunch of dead ballplayers to come back to life in Iowa, doing the same thing for a swing oughta be a piece of cake. And — no disrespect to Schwarber — he does look like he knows his way around a cake. Know what I'm sayin'? If it works out, I can think of another 24 guys who could use a little AAA tune up.
In fact, I'd like to see the whole AAA thing bein' applied to other jobs besides baseball. For instance, that team we got in Washington — mind you I'm talkin' about the whole friggin' ball club; Republicans, Democrats, the lot of 'em — is about as productive as a box of hair. They don't even have the friggin' fundamentals down. You'd have to send 'em all the way down to low A. You know, for the ultra-basic crap … "This round thing with stitches … this is a baseball." That kinda stuff. To which half of 'em would reply, "Hey, coach, can you take it a little slower?"
I'm lookin' forward to seein' Mr Schwarber back in Chi-town, with his swing back to the "stand back or you could get hurt" setting. In all honesty, I don't know if Iowa is gonna make that much difference, cuz 99 times out of 100, when a swing is misplaced, you don't have to look any further than that patch of grass between your ears to find it. But, hey, if the smell of corn or the sound of hogs (7 of 'em for every man, woman and child in Iowa) will put the fear of God back in Schwarbs' swat, I'm all for it.
Joe
Next
CUBS LAUNCH A PROMOTION THAT P.T. BARNUM WOULD HAVE ENVIED.