· 2016 Cubs, Joe Sez, The Playoffs · Angelinos, Charles Dickens, Chicago, Chicago Cubs, Dodger Stadium, Donald Trump, Joe Blanton, Katie Price, LA, Los Angeles, Los Angeles Dodgers, Miguel Montero, Paris Hilton, The Kardashians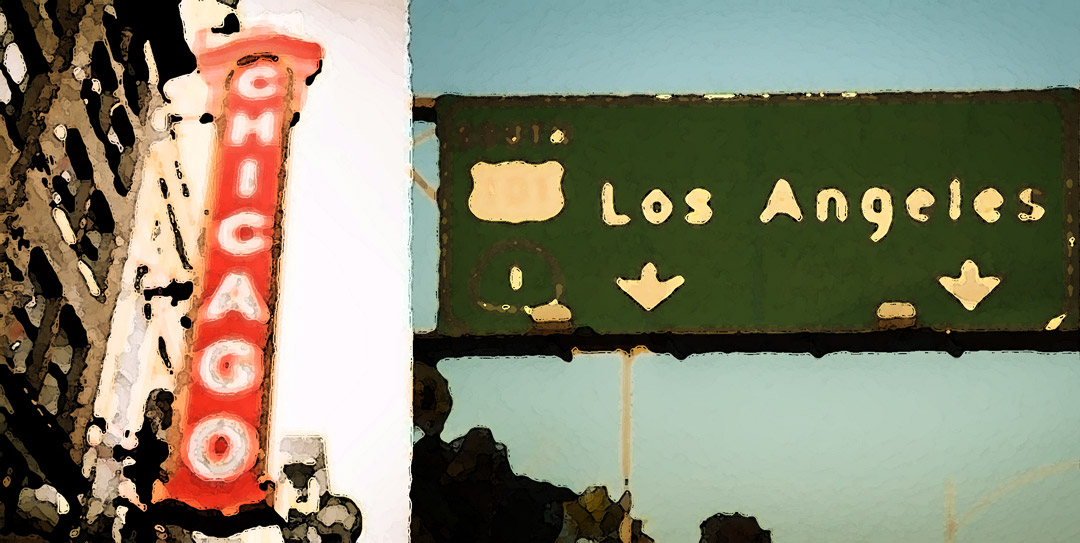 "It was the best of times, it was the worst of times." Then it was the best of times again. After last night, Dickens is sorta, kinda, almost startin' to make some friggin' sense to me. (At least the part I read.) Especially after Montereo — perhaps the most unlikely of heros — whiffed at a Joe Blanton meatball slider that my grandmother coulda plastered. So what does Blanton do? He serves up the identical pitch, and suddenly Montero — like Dickens' characters Al Manatte, Chuck Darnay and Syd Carton — is recalled to life, and resurrected in the middle of all the turmoil caused by Adrian Gonzalez. If that's not, to quote Dickens again, "the epoch of belief," I don't know what the hell is.
But this is a tale far bigger than Montero's bat against Blanton's arm, or the chess game between Maddon and Roberts, or even the Cubs vs the Dodgers. This is a smack down between two cities — Chicago and LA; the Second City and Tinseltown; wholesome midwesterners and blinged-out dreamers. These two places are about as foreign to each other as a World Series title is to the Cubs.
Everything is different. The architecture, the culture, the weather, the hot dogs. Like night and day, pal. Most especially the people. And that's what a city is; it's the people. It's the stuff, too, like smog, and traffic and no seasons, if you're LA, but mostly it's the people. So when you got a ball club representin' your city, it's really a proxy for the fans that live and die with them. Like me. (I may be livin' large at the moment, but over the years I've needed resuscitation 20 or 30 times after somethin' the Cubs or Steve Bartman did.) So what does that mean? It means that whatever the Cubs are in this series, all of Chicago is, too. Ditto LA. Well, that got my mind doin' the Chicago River thing — meandering backwards — thinkin' about what the Cubs stand for and how that reflects on us fans.
Ask most anybody born after 1908 what the Cubs stand for, and usually they'll tell you that they're the all-time, ever-lovin' mascot of futility. And that's not just on Earth, either. That would include all 9 rocks makin' rings around the sun, and everyone of their moons. And yeah, it's 9. Not 8, like National Geographic says. In the Schlombowski universe, it's still the Sears tower not the Willis tower, and Pluto is still a planet, my friend.
That said, I gotta think that after averaging 100-wins over the last two seasons, and makin' consecutive trips to the NLCS, some of that baked-on, decades-old crap we've been caked in has been chipped away. Most especially cuz we had the best record in baseball this year. But also cuz of how we taunted the Giants by danglin' that shiney even-numbered year thing in front of 'em right before we snatched it outta their greedy little Donald Trump-sized hands. Ha! A purely orgasmic feeling I normally don't associate with baseball. Then we bleached the Dodger blue a bit by doin' virtually the same thing to them last night. Hmm. How far apart can orgasms be and still qualify as "multiple?" Just wonderin'.
No longer are the Cubs the lovable losers, my friend. Uh uh. Who they are now is beginning to unfold in 2 cities, 2000 miles apart. Might as well be 2000 light years apart, though, cuz what LA is known for … well, I don't even know where to start. But how 'bout I take a shot, anyway?
Being famous.
There are 9 and a half million people in Los Angeles and I'd say only about six or seven of 'em don't have a star on Hollywood's Walk of Fame. They hand those things out like hot cakes … or Joe Blanton sliders over the middle. David friggin' Spade has a star. Hell, half the hawkers at Dodger Stadium probably have 'em! Seems like everybody in LA is famous, or is tryin' to be famous, or moved there cuz they wanna be famous. And when these honyocks aren't tryin' to become more famous, they're at the Forum Club rubbin' elbows with somebody else who's famous, or giving themselves little statues for things like pretending, and rhyming. Isn't that the height of culture. They even got a particular sorta famous in LA for just being famous. The Kardashians, Paris Hilton, Katie Price? That's what I'm talkin' about. The Dodgers are playin' for them.
Genuine imitation.
Is there some sorta ordinance in Los Angeles requirin' women to have breast implants? I've never seen anything like it. Neither have the laws of physics or Mother Nature, cuz the ones she makes have some kinda built-in movement and all. Those things Dr. Hootermacallitz is bolting onto women are like granite. You could rest your beer on 'em.
And how 'bout the lips. No skinny little white girl from Tarzana is born with a Mick Jagger kisser. That's not natural either. Add to that the butt implants, fake eye lashes, sprayed-on tan, over-whitened teeth, glued-on fingernails, tattooed eye-liner and you got yourself a real live tummy-tucked, face-lifted, hair-extended Barbie doll. The Dodgers are playin' for them, too.
Traffic squared.
Sittin' in traffic is a badge of honor in LA. You hear people dueling about their commutes: "It took me 90 minutes to get here this morning." "Pfft. That's nothin'. It took me 2 and a half hours to go from Mulholland to Westwood." They love to whine about it, but take pride in havin' the biggest nightmare. Of course everybody's got traffic. We got our share in Chi-town. But in LA, it's like herpes or somethin' — it's always there. No accident, no construction, no event. It's just 3 in the afternoon. Traffic is the reason Dodgers fans are some of the lamest in baseball. Why? Cuz they'd rather beat the traffic than stay for the whole game. They show up late, cuz they're sittin' — that's right — in traffic. Then they leave early — even if it's a 1-run ballgame — cuz it's more important to beat the rush outta Chavez Ravine than whoever they're playin'. Pathetic. The Dodgers are playin' for those guys.
Air-like substance.
In Chicago, we got air. Lots of it, usually movin' along at a brisk pace. Hence the nickname. In LA, I don't know what that stuff is that covers everything, but I'm pretty sure you're not supposed to be breathin' it. It's not just regular smog either, it's some kinda super smog that has the look of Joe Blanton's shorts after the Cubs' half of the 8th last night. You'd think Bashar al-Assad was in town or somethin'. They have days when they don't want anybody goin' outside cuz it's so bad. So they don't. The Dodgers are playin' for those people, while Chicago fans somehow seem to get around when it's 40 below zero or a scorching 100 degrees with 95% humidity. Which reminds me, when it's 67º out, LA thinks it's cold.
Lots and lots of cars.
Public transportation? What's that? As much as Angelinos like to moan about traffic, they looooooovvvvvee to spend time in their cars. They drive everywhere. Walk? Are you friggin' kidding me? Even if they're goin' to a neighbor's to watch famous people get a statue for pretending, they'll drive cuz who knows … they may need to suddenly go somewhere they haven't thought of, and in the million-to-one chance that happens, it's good to have the car close by. And these people — that the Dodgers also play for — they wonder why the smog is so friggin' bad.
You call that a river?
So long as I mentioned the Chicago River earlier in this tirade, I don't think I can finish this up without also bringin' up the LA River. First, there's no water in it. It's got the occasional abandoned car, old mattress or whatever grows and multiplies in random puddles of inch deep runoff, but no water. And second, it's made outta cement. CEMENT! The Chicago River, on the other hand, used to flow in one direction but was engineered to flow in the other. That's friggin' Einstein brain stuff, pal. Plus — and this is huge — it turns green on St Patrick's Day.
Any way you slice it, it's hard to imagine two cities any further apart than Chi-town and Tinseltown. In a few more days, one of the teams that represents 'em is gonna be doin' another champagne shower and headin' to the World Series, while the other will be watchin' it on the flat screen just like their fans. I'm betting that Binny's is gonna be makin' a couple more deliveries to Wrigley this year. Hope so, anyway. Seven more wins. Seven. Damn, that's close.
Joe
Fun facts: 1) Montero's slam was the first ever pinch hit, go ahead, grand slam in postseason history. 2) The Cubs now have a 1-0 lead in a best-of-7 series for the first time since the 1945 World Series. Go Cubs!