· 2016 Cubs, Joe Sez, The Playoffs · Angelinos, Charles Dickens, Chicago, Chicago Cubs, Dodger Stadium, Donald Trump, Joe Blanton, Katie Price, LA, Los Angeles, Los Angeles Dodgers, Miguel Montero, Paris Hilton, The Kardashians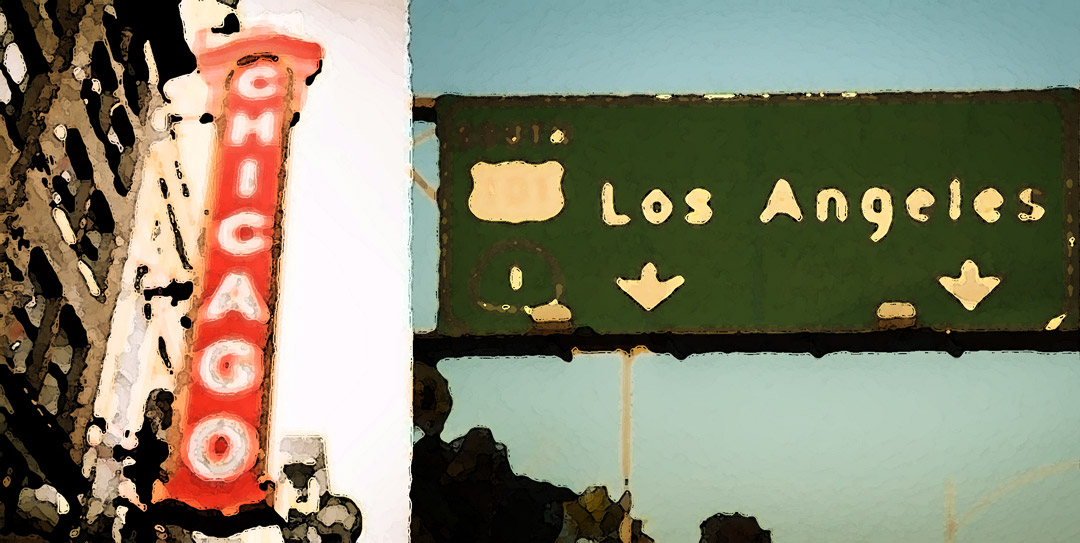 "It was the best of times, it was the worst of times." Then it was the best of times again. After last night, Dickens is sorta, kinda, almost startin' to make some friggin' sense to me. (At least the part I read.) Especially after Montereo — perhaps the most unlikely of heros — whiffed at a Joe Blanton meatball slider that my grandmother coulda plastered. So what does Blanton do? He serves up the identical pitch, and suddenly Montero — like Dickens' characters Al Manatte, Chuck Darnay and Syd Carton — is recalled to life, and resurrected in the middle of all the turmoil caused by Adrian Gonzalez. If that's not, to quote Dickens again, "the epoch of belief," I don't know what the hell is.
But this is a tale far bigger than Montero's bat against Blanton's arm, or the chess game between Maddon and Roberts, or even the Cubs vs the Dodgers. This is a smack down between two cities — Chicago and LA; the Second City and Tinseltown; wholesome midwesterners and blinged-out dreamers. These two places are about as foreign to each other as a World Series title is to the Cubs.
Everything is different. The architecture, the culture, the weather, the hot dogs. Like night and day, pal. Most especially the people. And that's what a city is; it's the people. It's the stuff, too, like smog, and traffic and no seasons, if you're LA, but mostly it's the people. So when you got a ball club representin' your city, it's really a proxy for the fans that live and die with them. Like me. (I may be livin' large at the moment, but over the years I've needed resuscitation 20 or 30 times after somethin' the Cubs or Steve Bartman did.) So what does that mean? It means that whatever the Cubs are in this series, all of Chicago is, too. Ditto LA. Well, that got my mind doin' the Chicago River thing — meandering backwards — thinkin' about what the Cubs stand for and how that reflects on us fans.
Ask most anybody born after 1908 what the Cubs stand for, and usually they'll tell you that they're the all-time, ever-lovin' mascot of futility. And that's not just on Earth, either. That would include all 9 rocks makin' rings around the sun, and everyone of their moons. And yeah, it's 9. Not 8, like National Geographic says. In the Schlombowski universe, it's still the Sears tower not the Willis tower, and Pluto is still a planet, my friend.
That said, I gotta think that after averaging 100-wins over the last two seasons, and makin' consecutive trips to the NLCS, some of that baked-on, decades-old crap we've been caked in has been chipped away. Most especially cuz we had the best record in baseball this year. But also cuz of how we taunted the Giants by danglin' that shiney even-numbered year thing in front of 'em right before we snatched it outta their greedy little Donald Trump-sized hands. Ha! A purely orgasmic feeling I normally don't associate with baseball. Then we bleached the Dodger blue a bit by doin' virtually the same thing to them last night. Hmm. How far apart can orgasms be and still qualify as "multiple?" Just wonderin'.
No longer are the Cubs the lovable losers, my friend. Uh uh. Who they are now is beginning to unfold in 2 cities, 2000 miles apart. Might as well be 2000 light years apart, though, cuz what LA is known for … well, I don't even know where to start. But how 'bout I take a shot, anyway?