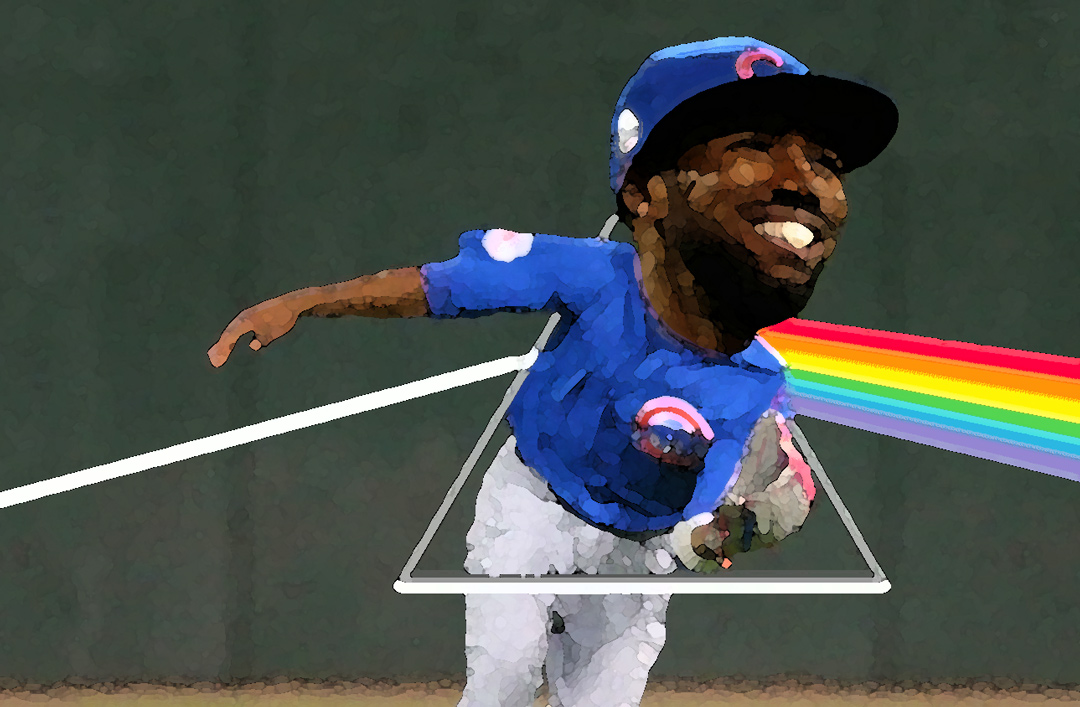 Money, get back.
I'm all right, Jack, keep your hands off of my stack.
Money, it's a hit.
Don't give me that do goody good bullshit.
I'm in the hi-fidelity first class traveling set,
And I think I need a Lear jet.
It's difficult for me to grasp what goes on inside some people's heads when it comes to money. After the best season of his career, playin' a key role in the Cubs march to the cherry on top of the 2016 baseball season sundae, Dexter Fowler has declined his mutual option with the Cubs and will re-enter the free-agent market for next season. TRANSLATION: Show me the friggin' money, baby.
Fowler's option would gild his 2017 pockets with $17.2 million. Just to put it in perspective, let's look at how that number breaks down, based on this year's stats.
1) Fowler had 551 plate appearances in 2016. If he matched that next season, he'd be gettin' $31,215.97 every time he stepped into the batter's box. Hit, walk, pop out, weak ground ball to the pitcher, gettin' beaned … whatever. $31,215.97 for just steppin' up to the plate. Cha-ching. Just not enough ching for Fowler.
2) Dexter played in 125 regular season games this year. If he did that next season with the Cubs he'd get the following: 1) 37 days of hangin' out at the ballpark and shootin' the pies of cows with his buddies, in addition to regular off days. 2) $137,600 every single time he actually had to do somethin' more than spittin' sun flower seeds to help the team. 3) A real good chance at repeating this year's championship. Is that good enough for Dexter? No, it is not.
3) Let's say Fowler amassed another 126 hits next season like he did in 2016. His $17.2 mil would parse out to $136,507.94 for each and every one of 'em. Can you imagine that? I mean the crisp sound of your base hit being matched by 136,500 and almost 8 crisp one dollar bills! And that would not just be any sound, that would be a friggin' 100 piece orchestra playin' the 1812 Overture, my friend. Apparently not to Dexter's ears, though.
4) In 2016, the big D recorded 216 put outs and had 6 assists. If the numbers were the same next year, that would be $76,444.44 for every out he had a hand in. I grant you, some of his catches were awesome … but $76 grand for every one? Even the cans of corn and the ones that come right to you and you don't have to move even 1 inch? How do you turn that down?
You can slice this 17 million ways from Sunday, but no matter what, it always adds up to a number with 20 syllables. And yeah … the money is for all this stuff together, so you can't really do a 1-to-1 compensation on a single stat. That said, I'm just tryin' to paint a picture here that illustrates how friggin' ridiculous this is.
Money, get away.
Get a good job with more pay and you're O.K.
Money, it's a gas.
Grab that cash with both hands and make a stash.
New car, caviar, four star daydream,
Think I'll buy me a football team.
I love Fowler, or at least I did until he started actin' like Roger Clemens — a guy who would jump teams for an extra 50 cents and a couple vials of HGH without battin' even one eyelash. Yeah … I totally get that baseball is big business these days, guys have short careers and need — a really, really subjective word — to make as much as possible while they can. But how much is enough? At some point, greed rears its Kardashian head and kinda craps all over whatever humanity was there before.
I understand that Dexter has probably earned a multi-year deal from somebody. It would be nice if it were the Cubs, who I'm sure aren't gonna just let Fowler jump ship without first makin' a serious offer. Based on what he said yesterday, though, I'm not sure we're even in the running. "I'm definitely going to be a free agent, but hopefully it happens a little bit quicker than last year," said the Cubs' 30-year-old switch-hitting leadoff hitter. "You can't control what goes on, but I loved my time in Chicago and I'm definitely not counting them out, but we'll see what God has planned for us now."
"Loved my time in Chicago" … past tense? What God has planned for you? KEY-RYST! When Custer was greeted by 11,000 Sioux and Cheyenne at the Little Big Horn, THAT'S what you call findin' out what God has in store for you. But purposely walkin' away from a team that could very well compete for the Series over the next 4-5 years, just so you can make more than $17.2 million a year? Give me a friggin' break. Dexter might as well just change his name to Gordon Gekko right now. The champagne smell isn't even outta the locker room yet and Fowler is talkin' about money. That's one of those things that puts a red-hot, acid-coated burr in my hiney. Fowler is makin' a choice. He's not leavin' it up to God or Buddha or the Magic 8 Ball as if there's some divine power involved in the outcome. The only power, besides Dexter, involved in this decision is his agent, and those guys all work for Satan Incorporated.
Money, it's a crime.
Share it fairly but don't take a slice of my pie.
Money, so they say,
Is the root of all evil today.
But if you ask for a rise it's no surprise that they're giving none away.
The bottom line — which is a term that Fowler seems like he's intimately familiar with — is winning. If that mattered as much as money, who knows? Maybe Fowler woulda still done the same thing, but at least it wouldn't have been while the remaining echo of Go Cubs Go was still in the air. Doin' it now is just selfish and, quite frankly, maybe we don't want a guy on the team that has that green streak runnin' through him. You didn't see that in Derek Jeter, arguably the greatest shortstop in Yankee history, who found a way to stay with the Bombers his entire career. Sure, they paid him plenty, but who knows what he coulda got on the open market. Posada? Same. Rivera? Ditto.
I'd like to see Fowler wearin' the Cubs pinstripes next year, and part of that depends on what Theo is willing to do for him. I can tell you this, though, Theo is lookin' out for the team, and since Dexter has now demonstrated that "team" isn't really his priority, I think there's a pretty good chance that Chicago has seen the last of Dexter Fowler.
Joe