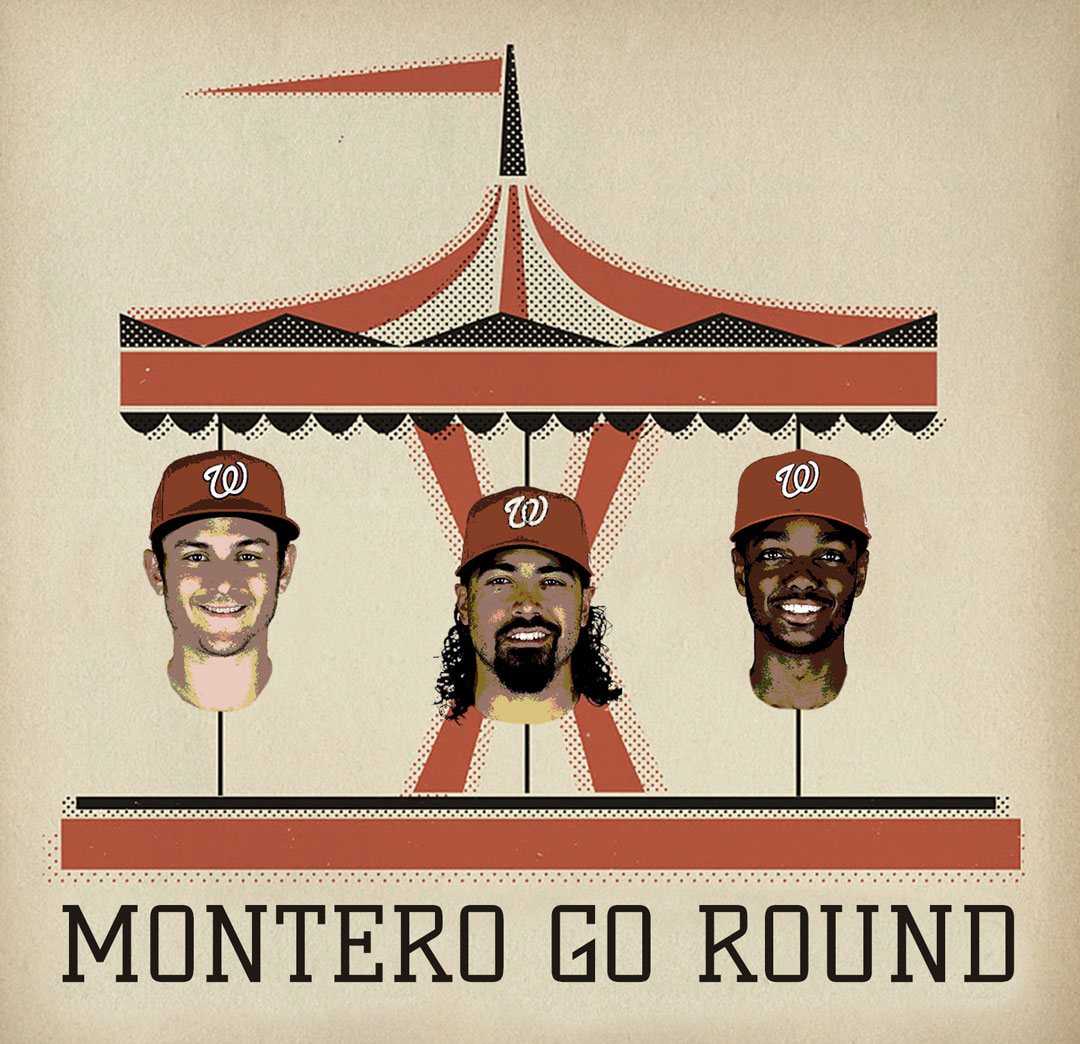 Hey there, popcorn balls. You know how ballparks are addin' all kinds of entertainment crap to pacify the simpleminded between innings? Well last night the Nats took that whole genre of stupid a step further by introducing us to the Montero-go-round — a cruel carnival ride of base stealing madness like nothin' ever seen outside of Ricky Henderson's nap time. And it wasn't between innings, it was during the friggin' ball game! It was, in a word, embarrassing. If it had come with that obnoxious carnival ride music that I can't get outta my head for three days after, it would have been the ultimate in base stealing torture.
7 swipes in one game. It was like unleashing a bus load of escapees from Sing Sing on a 7-Eleven with a blind cashier. Anything that could be stolen, was. Worse yet … half the time, Montero didn't even so much as fake a throw! He just stood there like a friggin' zombie, wonderin' what the hell just happened again. And again. And again. And when he did let loose, it didn't always hit the mark. Unless left field (in one instance) was the mark.
I don't wanna make it sound like it was all Montero. Guys who steal are stealin' off the tandem, not just the backstop. In this case, it was the dynamic duo of Montero and his faithful ward, Jake Arrieta. And Arrieta has a certain measure of turtle in his delivery. But Jesus, Mary and Joseph! Every time Turner or Tailor got on base they'd swipe 2nd AND THEN SWIPE 3rd! It was makin' me dizzier than a convention of blondes. After a while I had to run and get the Dramamine so as not to puke up my brats.
So … Montero came into the game with an 0-24 record tryin' to nab base stealers. Left the game 0-31. It was painful to watch and wasn't the kinda ride you wanna go on again. Thankfully, we won't have to. After the game, Montero unleashed a river of venom on Arrieta, blamin' him for the carousel of Nationals runners, resulting in gettin' his ass … and his mouth (Is there any difference?) designated for assignment. Too bad, too, cuz today's visit to the White House was a chance for Montero to rub elbows with another guy whose mouth is often confused with his ass.
The downside is all of the potential promotional opportunities the Cubs are gonna lose out on:
1. Whenever Montero catches, it's "Dramamine Night" at Wrigley.
2. Half price tickets for anyone out on parole for grand theft.
3. Montero "Carnival" Night: The first 10,000 fans with fewer than six teeth get a Montero Bobble Head doll, which is just like a regular bobble head except the head doesn't bobble, the right arm is missing, and the left hand is pointin' a finger.
Anyway, the Montero-go-round has been shut down for the time being. In fact, last night could possibly be his last game in a big league uniform. I hope not. I got all my fingers and toes crossed that the Cards pull his sorry, whining, selfish ass off waivers.
Joe