· 2016 Cubs, Joe Sez, News, The Playoffs · billy goat curse, Chicago Cubs, Harry Caray, Joe Buck, Steve Bartman, Theo Epstein, World Series, World Series champion
I don't know about you, but I got one question: Where in the hell did all these people come from?! I ask in that particular way cuz there are definitely some major league ice sickles hangin' off of Satan's ass today. Yup. The biblical equivalent of a large Canadian low swooped down and turned the lake of fire into somethin' the Blackhawks could win another Cup on. But, whew … Cloud 9? (Or whatever number it is.) It feels way more like Sardine Can 9 to me. You'd think Hillary Clinton and Donald Trump made simultaneous announcements to drop outta the race for Idiot in Chief. Nope. It was the Chicago Cubs winnin' the last game of the last series of the 2016 baseball season.
That's right, pal. After sufferin' through 108 years, 19 days, 2 world wars, 1 billy goat curse, Steve Bartman and the Kardashians, the Chicago Cubs are finally sittin' on the very tip top of the baseball world. If I was friggin' Shakespeare I still couldn't find words to explain how good this feels. I think it's in the general vicinity of playin' hide the sausage with the missus, but with mustard, relish and some cheesy fries. I can tell you this, whatever this feelin' is … I'm not alone, cuz it appears as though I'm celebratin' with 15 or 16 million of my closest friends.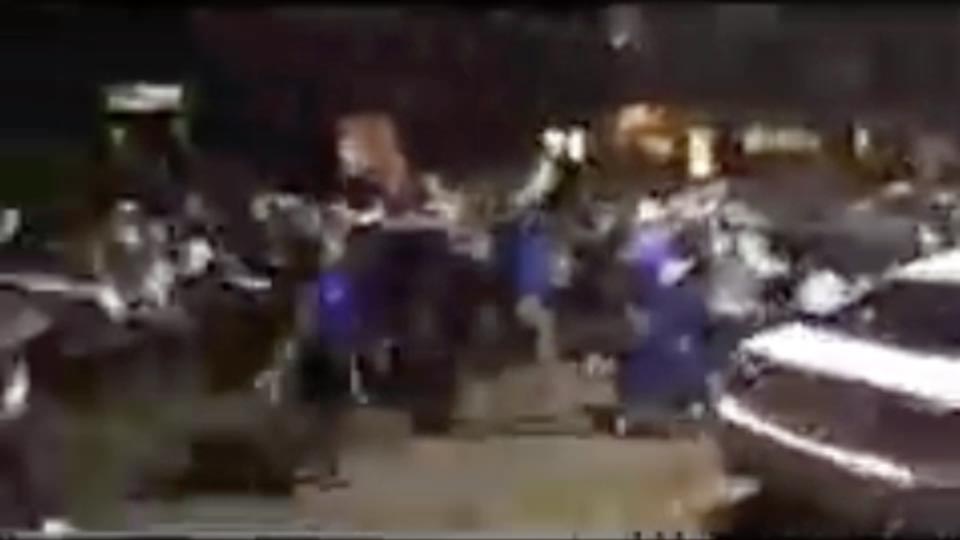 At the risk of stating the obvious, I don't know when I've seen a better World Series. I know. That's a little like saying, "Those are some major league yabbos, you got there, Dolly," to Ms Parton. Sometimes, though, you just gotta say stuff, even if it doesn't need sayin'. Of COURSE I haven't seen a better Series than that. Anyone who saw the previous one ain't breathin' anymore.
But Wednesday night … holy CRAP, was that nail-biting or what?! I created a new divot in the edge of the Schlombarcalounger from being perched there for 4 hours. Comin' back from a 3-1 series deficit, and givin' away a 5-1 lead in game 7, and going extras, and the whole "did Joe overtax Chapman by using him needlessly in game 6" thing … it was a baseball thrill ride of Magic Mountain proportions. Havin' an umpire crew from the Stevie Wonder school of rock was like the whip cream on top of this extra large tension sundae, too. I didn't much like it, and it's definitely a good reason to keep the Second Amendment intact, but the umps did, in their own pathetically incompetent way, make things interesting. Of course, some people find reality TV interesting, so I think "interesting" is in the eye of the beholder. Except for umpires, cuz their eyes don't work much).
If I could change anything about Game 7 (besides me havin' front row seats with Bill Murray) it would be to bring Harry back from his skybox to call the game … for two reasons. 1) Harry was the definitive, quintessential, beer-drinkin' Cubs fan, not to mention the voice of the team for like a million and a half years. He had more Cubbie blue in him than the Chicago River does today, and … AND … I was walkin' outta the Ambassador East, where Harry lived during the season, and where I used to get up for the game, and he took one look at the missus and me and offered us a ride to the ballpark. No shit! Of course I think he gave us the ride so he could enjoy ridin' with the missus for 15 minutes. Anyway, reason #2 is that if Harry woulda been doin' the game, no one's ears — mine especially — would have been assaulted by the moronic commentary of one Joseph D. Buck. (That's a D for douche bag.) He's like a friggin' Ken Doll, except he's not as knowledgeable about baseball. Obviously, I'm not the only one with this fantasy, cuz Budweiser did a pretty good job of showin' us what it woulda been like if Harry had called the game:
Anyway, I could go on and on, but it's taken me 2 days just to stop celebratin' enough to write this little bit down. Bottom line is the Cubs are world champs, which has put grins the size of the Sears Tower on about 30 million people. Enjoy the parade, baby!
Joe
PS. I believe the groundbreaking ceremony for the Theo wing in Cooperstown will be underway soon.