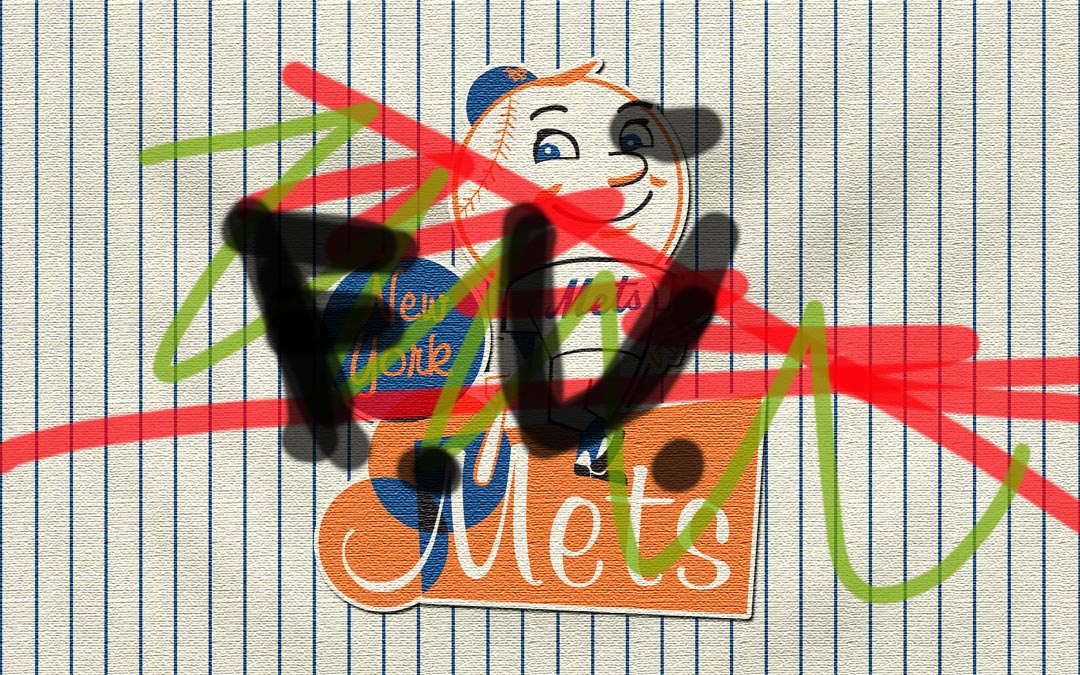 Two words: Jose Reyes. That's all it takes to explain why I can't stand the friggin' Mets. That, and seein' a Mets fan in the stands, wearin' a Reyes jersey. And this guy was ultra-Mets; the kinda fan with a $250 Wall Street hair cut and wearin' his sunglasses backwards on his head. Totally obnoxious. Probably does the Anthony Weiner thing with his cell phone, and checks out his own ass in the mirror every chance he gets.
Yeah, yeah … Cubs fans wear player jersey's all the time; Rizzo, Bryant, Arrieta, Baez, Sandberg, Banks, Jenkins … Williams, too — Billy and The Wild Thing. But none of those guys have grabbed their wives by the throat and thrown 'em against a plate glass window like Reyes has. Charming. There's no excuse for beating a woman. None. Period. End of discussion. Still, the Mets have welcomed the guy back to their clubhouse, like he was convicted of jaywalking or somethin'. Classy move. Shows what they think about domestic violence. On top of that, any fan — like the aforementioned pinhead — willing to still sport the jersey of a guy who's known for treatin' his wife like he treats a baseball shows just how friggin' tone deaf he is to a really dipshittian kinda crime — one that should never ever happen.
Anyway, Jose Reyas and Jose Reyas apologists add up to the 868th reason why I can't stand the friggin' Mets.
Reason #869 is all about the fact that we spent the entire regular season last year shellacking these guys, only to have them open a Costco-size can of whupass on us to win the Pennant. And that's just the tip of the #869 iceberg, pallie, cuz on top of that I add the series that just wrapped up today, where they basically kicked the livin' shit out of the Cubs. It was ugly. It was embarrassing. It was like wettin' your pants in public with the Mets standin' there pointing and laughing. And today was the ever lovin' lulu! Lester was handing out runs like he was friggin' Santa Clause; 8 of 'em in … get this … 1-1/3 innings. The worst, most dreadful, awful, obscene, dismal, atrocious and definitely shortest outting of his career. His entire CAREER! Sheesh. And the pen wasn't any better. Overall, our staff gave up 22 hits today. That's like 3 game's worth. Ridiculous. You tac these 4 games onto the playoffs last year, and you don't have to be a brain surgeon to see that whatever superiority we had over the Mets has vanished into thin air, or rather that garbage-scented kind of air that hovers over New York.
When the Cubs headed east for this series, somebody from ESPN tried to goad Maddon by askin' him about what happened in last year's NLCS. Doin' his best to shove that into the bottom of the ball bag where it belongs, Maddon replied, "Last year is last year." Well, as it turns out, this year is lookin' a lot like last year, too. The good news is that in spite of our Queens melt down, the Cubs are a damn fine baseball team. Yeah, our starters are in a bit of a funk and the pen is — as it has been all season — a question mark. (Although I sure liked what Carl Edwards Jr was dishin' yesterday.) Still, I feel good about where we are. It's one helluva lot better than bein' outta the picture already, which is where we've been by the Mid-Season Classic for most of my 55 years. Plus, we got Cinci tomorrow, then Atlanta, then the Pirates before the All Star break. That's what you call havin' your cake and eatin' it, too.
By the way … did I mention that I hate the friggin' Mets?
Joe