· 2016 Cubs, Joe Sez, The Playoffs · Andrew Toles, Anthony Rizzo, Aroldis Chapman, Ben Zobrist, Chicago Cubs, Clayton Kershaw, Dexter Fowler, Jake Arrieta, Javier Baez, Jed Hoyer, Joe Buck, Joe Maddon, Jon Lester, Josh Reddick, Keith Moreland, Kyle Hendricks, Los Angeles Dodgers, NLCS Champions, Theo Epstein, Tom Ricketts, Willson Contreras, World Series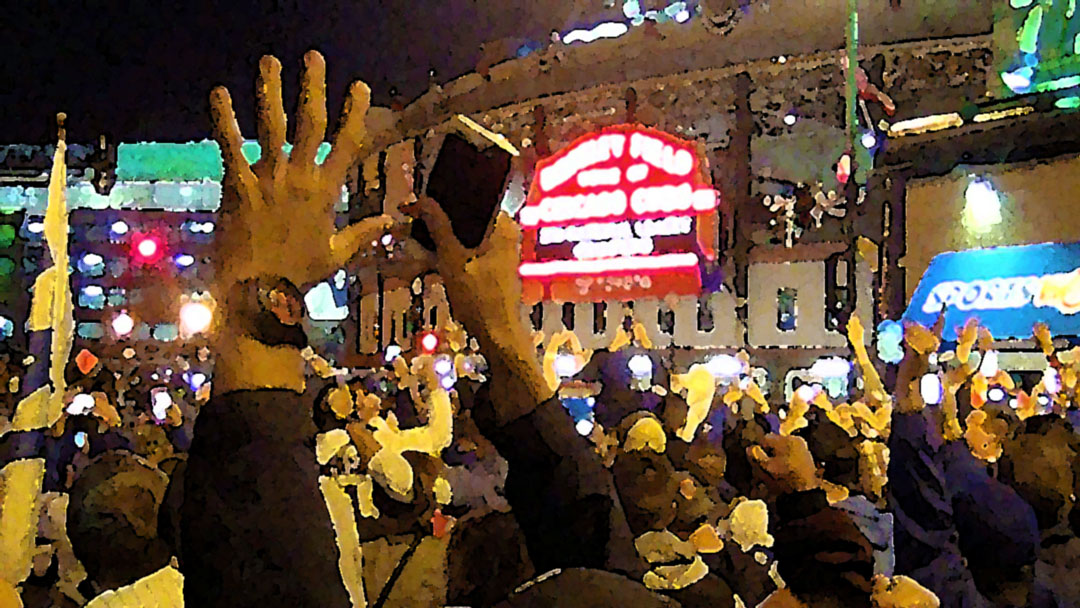 "This is it! This is it! It's two, they're gonna turn two! Eeeaaaaaahhhhhhh!" The moment the ball was hit to Russell, I jumped outta my chair, screamin' like a banshee. I don't really know what a banshee is, but it's gotta be loud and somewhat unhinged. (That would make my sister in law a banshee.) I bear hugged the missus who was already workin' on a full set of raccoon eyes. If I was a woman, or Johnny Depp, I woulda had 'em too, cuz I realized she wasn't the only one cryin'. That's what happened at the Schlombowski household Saturday night. And I'll tell ya … except for the Swedish Bikini team servin' me beers without their bikini's, blubberin' like a newborn was the last thing I expected to happen. I guess the Cubs going to the Series means more to me than I thought it did … And believe me, I thought it would mean one helluva lot.
More than anything else, I feel gratitude towards Mr Ricketts who, as the Cubs owner, sorta takes a back seat to Theo, Jed and Joe in terms of getting credit for puttin' this club together. But if it weren't for Mr Ricketts, none of those guys would be here and, in all likelihood, our season woulda been over by the mid-season classic, like usual. So … thank you, Mr Ricketts. On the 10 million to 1 chance that you're readin' this, I want you to know how grateful I am that you brought Major League Baseball to Wrigley Field. Yeah, there's always been some sorta reasonable or unreasonable facsimile, but until you started signin' the checks, it's never been anything like this. Thank you for givin' so much joy to so many people who have patiently waited for so very, very long. We do, however, need a sit down about concession prices, my friend.
Full disclosure: I was more than skeptical at times over the last 5 years. 55 seasons of nothin' will do that to a Cubs fan. So for me, bringin' in Theo wasn't an instantaneous Kyle Schwarber moon shot. Not that I didn't wet myself with excitement when Theo first signed. I mean he came with the Red Sox miracle on his resumé, which was huge. Still, it took a while before all the ingredients started to come together. That's when the intoxicating aroma of Theo stew with Maddon sauce started wafting out over Wrigleyville, and I realized that Mr Ricketts was really baseball's Charlie Trotter. So sue me if I'm a little slow on the uptake. Nobody except Javi Baez is perfect, pal.
"Try not to suck." That was the mantra this year. A Joe Maddonism that's Yogi-esque in its utter simplicity and purity. And the Cubs lived up to every bit of it. They did not and do not suck, my friend. The same can't be said for the Dodgers. Sorry, it may be unsportsmanlike to kick your opponent when he's down, but somethin' has got to be said about what happened to the Dodgers and their messiah, Clayton Kershaw.