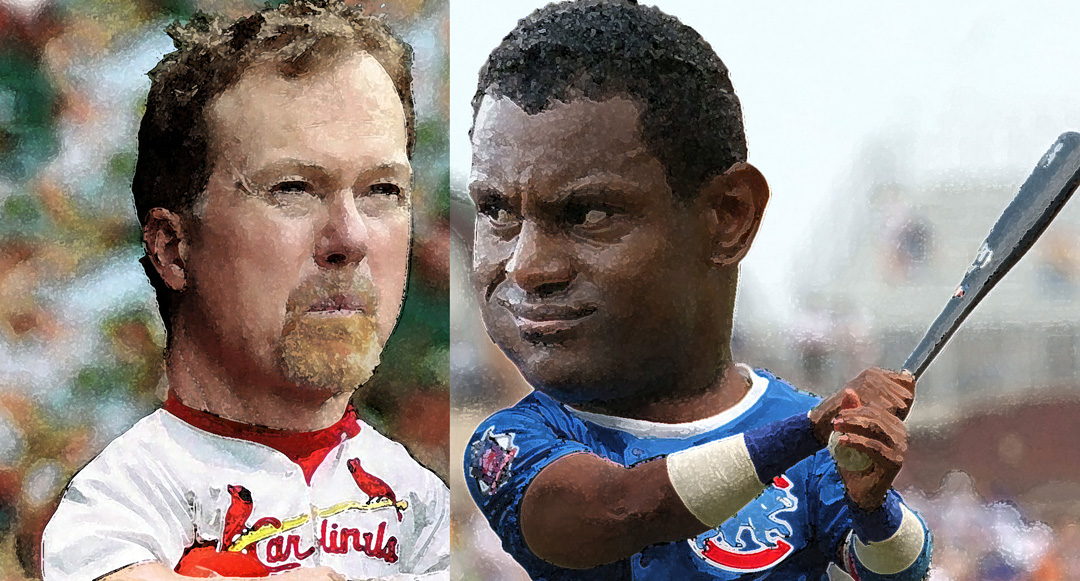 Hey there, corn nuts, Joe "I can't stand the friggin' Cardinals" Schlombowski here to remind you that we start a 3 game series against the Redbirds tonight. I bring this to your attention cuz if we broom these cupcakes we claim the Division title for the first time since 2008. I'd call that pretty sweet … but doin' it against the Cards? Well, that's more like cotton candy pancakes smothered in whip cream covered Snickers-infused molten chocolate syrup. With an Old Style.
Clinchin' in St Louis has a much higher calorie count cuz of the long history of discontent between the Cubs and the Cards. It's like the Hatfield's and McCoy's, Ali and Frasier, Wile E. Coyote and the Roadrunner. Takin' the title on the Cards' home turf would have the added benefit of rubbin' their noses in somethin'. I'll leave that to your imagination.
Anyhoo … this reminded me of Sosa and McGwire — two guys that, back in 1998, became a microcosm of this long standing rivalry. That was before they became a microcosm of the cheatin', roided-up jaggoffs who crapped all over the game of baseball. That aside, their chase for the single season dinger record seemed other-worldly at the time, and it probably did a lot to help bring the national pastime back out from the shadow of the players' strike, which cancelled the 1994 World Series and part of the next season as well. Assholes.
Seriously. How the hell do you strike when every guy in your industry is makin' mad money for playin' a game?! That drives me friggin' bat guano. Of course the owners pretty much brought it on themselves, and much of that can be laid at the feet of Captain Lame with Lame sauce. Uhh, that would be Bug Selig.