· Joe Sez · Billy Williams, Cubs fans, Dodgers, Ernie Banks, Fergie Jenkins, Greg Maddux, Jack Brickhouse, Ron Santo, St Louis Cardinals, Vince Lloyd, Wrigley Field, Yankees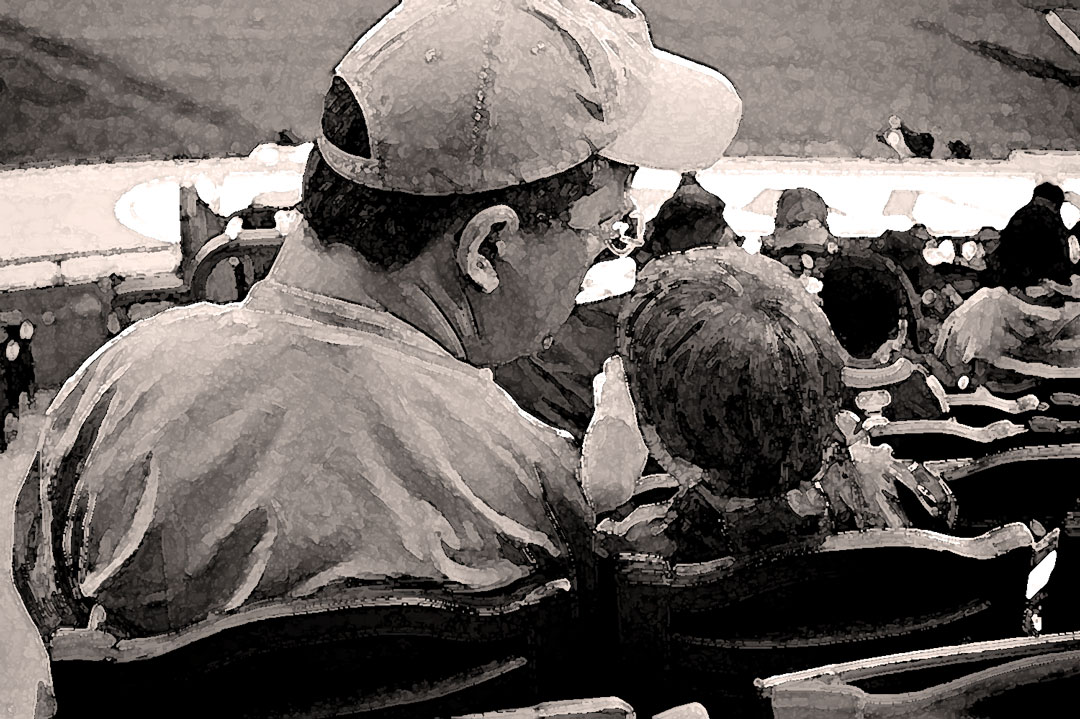 When I was a kid, my dad used to take my brothers and me to Cubs games. Not all the time, but once in a while. Even took my sister once, but she fell asleep on his lap which meant he couldn't get up and cheer when circumstances called for it. Oh yeah … that was the Cubs of the 1970s — no need to stand and cheer.
Goin' to Wrigley was one of my favorite things as a kid. Still is. There's nothin' like that first glimpse of the impossibly green grass, the perfection of the infield carved from it, and the billowing clouds pushin' across Chicago's summer sky. But what sticks in my mind most from those trips to Wrigley was how tall everybody was. Walkin' in the crowd was like bein' in a forest of human redwoods. Even in our seats I couldn't see a thing unless everyone was sittin' down and I was up on my knees. That's how I remember watchin' most games at Wrigley. Makes my ACL swell up just thinkin' about it.
My dad loved baseball. And more than that, he loved the Cubs. April was the most optimistic month in the Schlombowski household, but there was always a measure of it, no matter how far outta first the Cubs fell. "A 10-game win streak starts today, Joe," he'd say as he was leavin' for work. And when he'd get home, it'd be "See, I told ya," or "I meant tomorrow," depending on what the Cubs did that day. When they were on the road, Dad would haul our crappy, old black-and-white TV out on the stoop to escape the suffocating heat in our apartment, and watch the games with our neighbor, Mr. Kowalski. They'd smoke cigars and listen to Fergie Jenkins, Ernie Banks, Billy Williams and Ron Santo try as they might to carry a team that was neck-deep in billy goat curse. The smoke seemed sweet, and curled up through the screen on the window of the room my brothers and I shared. I'd fall asleep to the sound of Jack Brickhouse or Vince Lloyd, the muffled conversation, and my dad's occasionally animated and always colorful commentary on whatever the Cubs were doin', and whoever was doin' it to 'em.
To me, the quintessential ($5 word score!) Cubs fan was long ago defined by the intersection of my father and the Chicago Cubs. At Wrigley, I'd look up at him from my seat and see a guy who loved the experience of just being there much more than the game's outcome. It was about the theater of the sport — its ebb and flow, the glacial pace interrupted by periodic moments of volcanic excitement. My father saw himself as a player in this nine-act play —the jester, if you will — the guy in the stands who has people three sections away laughin' their asses off, and wishing they had the wit and courage to sling crap at the opposition like he did. You know, the kind of icy yet good-natured barbs that sting, but make one smile at the same time. If they gave a gold glove for that, my dad would have a trophy case full of 'em, and a couple of boxes in the garage for the ones that wouldn't fit.