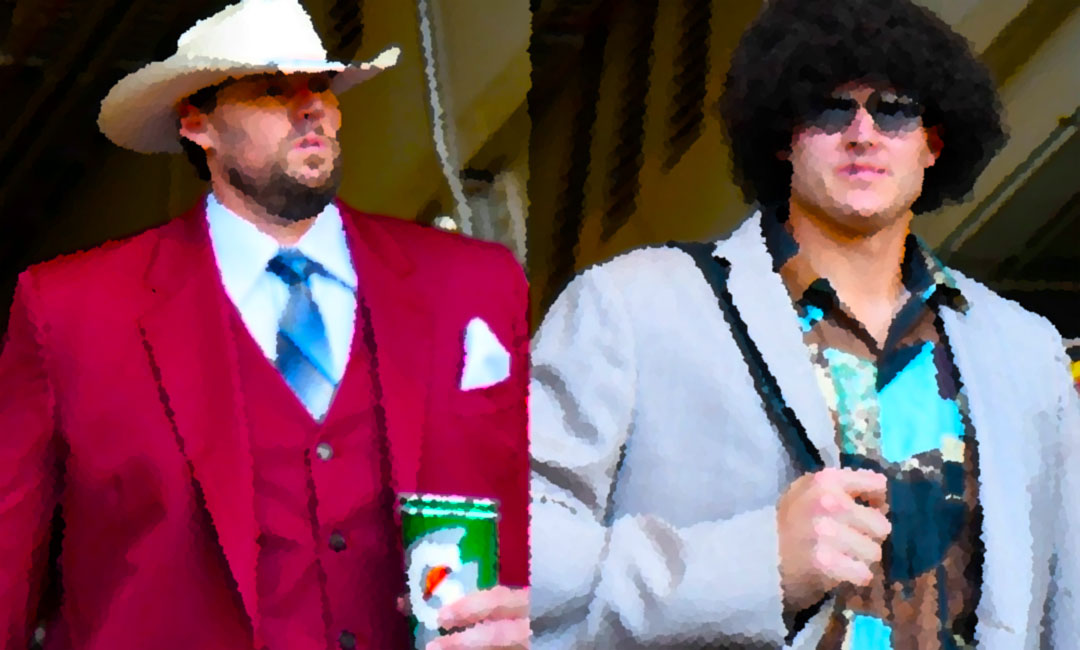 Sometimes I wish I was a duck. Not the Anaheim hockey kinda duck or the Oregon football kinda duck. The kind that comes with orange sauce in hoity-toity French restaurants. The real kind. The waddling, quacking, flyin' south for the winter kind. Cuz if I was THAT kinda duck, the whole junior-high-school-let's-play-dress-up thing the Cubs do, instead of focusing on baseball fundamentals, might just run off my back.
"I'm in a glass case of emotion!" — Ron Burgundy
But I'm not a friggin' duck, my friend.
I'll admit that missus would say I have some habits that remind her of another barnyard animal. But a duck? No. And nothin' — least of all the Cubs' girly-scout-like penchant for celebratin' Halloween during the regular season — is running, dripping, sliding or otherwise escapin' the confines of my heavily forested back. At least not without me first stating the obvious, which is this:
If you're a major league baseball club, and you're routinely using your opponent for a doormat, you can dress up like Ronald friggin' McDonald in drag all you want. Pull out your secret collection of Madonna poindexter bras. Go with the Sports Illustrated body painting thing. Whatever chalks your foul lines. Winning is everything, pallie, so if a team wants to dress like peacocks in heat when they're doin' it, who am I to say otherwise. I'll always think it's idiotic, but if you're headed for a 100 win season, what the hell. My problem with the Cubs dressin' like Ron Burgundy (or Walt Frazier, or Lady Gaga — honestly, I can't tell with some of those get ups) is that they're doin' it in the middle of a .500 season. Yeah, they had just spanked the Reds and Giants before this Southern California trip — and, admittedly, I thought that was some kinda turning point in what has been a less-than-stellar season. As it turns out, though, that's not the case. Instead, all they did was tempt fate. And fate — otherwise known as the Los Angeles Dodgers and San Diego Padres — has given 'em a front row seat on the catwalk of "What Not to Wear."
With the possible exception of the nine games preceding this Burgundy trip, the 2017 Cubs have been playin' a lot more like the (PUT ALMOST ANY YEAR BETWEEN 1909 AND 2015 HERE: _______) Cubs than the "2016 World Series Champion" Cubs. Example: Last year when we had 25 in the W column, we only had a 6 in the loss column. This year? 26.
"Don't act like you're not impressed." — Ron Burgundy
That's a pretty impressive collapse, in my book. Especially when you consider that the Cubs have the same basic team as last year. Practically the same lineup. Same skipper. Same coaching staff. We're playin' in the same ballparks. Stayin' in the same hotels, probably. Dating or married to the same women. Puttin' the same uniforms on in the same way. What we're NOT doin' the same is catchin', throwin', pitchin' or hittin' the friggin' baseball. In fact, if defense wins championships, the 2017 Cubs might as well punch out right now, cuz they're currently ranked below every major league ball club in that department, except for the Athletics. And they're like not even a real baseball team.
Ok, how about our offense? "What offense?" you might ask. Exactly. Kris Bryant is leading the team with a whimpering .277 batting average. He's also tied with Rizzo for the team lead in steals. They have four apiece. Wow. Ricky Henderson used to swipe that many in a single game! In 2016 we had five guys ranked in baseball's top 50, offensively. This season, we've got one in the top 65 — Bryant, again — but his name doesn't register until #22. Out of the 30 major league baseball clubs, we rank 24th in team batting average (.237), and we strand 15.73% of our baserunners (29th). Although I suppose I should be thankful that we even have baserunners.
Then there's our pitching … if that's what you wanna call it. It's more like batting practice. We've got a 4.09 team ERA (13th), a 1.325 WHIP (14th), we give up 8.40 hits (12th) and 1.27 dingers (18th) per 9 innings, and we hand out up a whopping 3.53 walks per 9 innings (23rd). You know that new (and completely idiotic) rule where a team can opt to wave a batter to first rather than intentionally walk him? Well, at this point, our pitching is so inept, I'm thinkin' they might as well just turn around and throw the ball in the gap.
But then what do you expect for $175,000,000, right?
The dress up thing reminds me of Crash Davis deliverin' the "shower shoes" message to Nuke LaLoosh. "If you win 20 in the Show, you can let the mold grow back on your shower shoes and the press will think you're colorful. Until you win 20 in the Show, however, it means you're a slob." Same principle applies here. If you're 35 and 16 you can dress like friggin' Liberace and everybody will think you're loose. But if you're 25 and 26, it just means you've taken your eye off the ball.
And THAT, my friend, is winning another Series.
"I don't know how to put this, but I'm kind of a big deal." — Ron Burgundy
Sure, winnin' one was a big deal. Not as big as winning two, though. Am I thankful I was alive to witness last year? Damn right. Would I like to see more while we still have a chance with this lineup we got? Who wouldn't? But even if that doesn't materialize, I'd much rather the Cubs acted like playin' ball mattered as much as playin' dress up. Cuz right now, they're not only lookin' like Ron Burgundy off the field … they're playin' ball like him on it.
Of course I could be wrong. But I'm not.
Joe