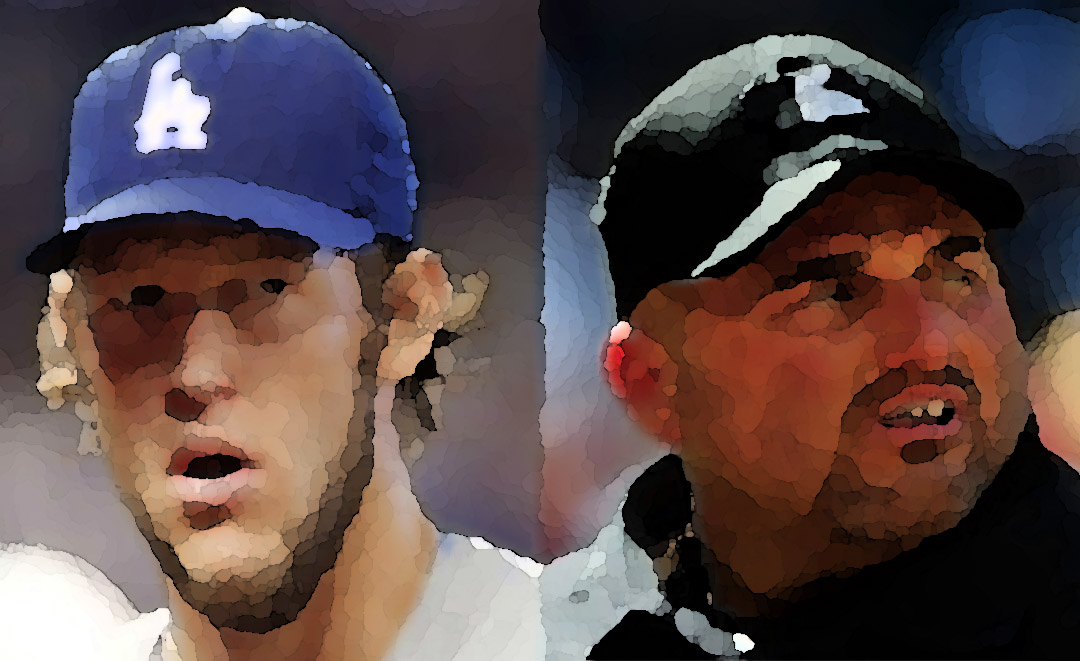 Hey there, drumsticks. Well, that was fun, huh? Now I could be all magnanimous ($10 word bonus) and say what a great game it was, it bein' a one-run ball game and all, but I'm not gonna do that.
Tonight, Clayton Kershaw and home plate umpire, Eric Cooper, teamed up to show the Cubs just how wussy their offense has been in the playoffs. Kershaw was text book Kershaw, no doubt about it. But the guy behind the plate — not Grandal, the one with the white cane … Cooper — he was masterful, incredible and 100% overpowering with his inconsistency. Look, I don't mind a guy havin' a wide strike zone or a narrow strike zone, or a high or low one … but when two balls are thrown in precisely the same friggin' place, and one is called a ball and the other a strike, it makes me wanna mow the infield with the ump still on it.
And I don't need the "well, he called it the same for both teams" BS, cuz he didn't. The strike Cooper called on Bryant in the 9th is pretty much Supreme Court-worthy proof of that, my friend.
I'm not blamin' the loss on Eric Cooper or Stevie Wonder or whoever the hell that was callin' balls and strikes. I'm just sayin' he sucked like a top-of-the-line Dyson. The Cubs did most of the damage on their own; standin' in the batters box just watchin' the pitches go by. News flash, Cubbies: This is the NLCS, not Shark Tank. Even Robert Herjavec knows what to do with a good pitch, and just standin' there like a friggin' zombie isn't it.
I'm guessin' the Cubs strategy goin' into Game 2 was to run the pitch count up on Kershaw — typical for the Cubs no matter who's on the bump. Just two problems with that: 1) Kershaw doesn't walk people and 2) not swingin' at strikes leads to outs, not gettin' on base. Perhaps they shoulda rethought this approach at some point. Before the game woulda been ideal. I mean the Kershaw start wasn't a surprise to anyone, was it? So his track record in the first 6 innings shouldn't have been an unknown quantity, right, Joe? But, ok, so we go into the game thinkin' we're gonna run the count up. When do you reassess and start being aggressive at the plate? How 'bout 4 innings in when Kershaw has tossed a measly 40 pitches? Not then either? Hmm. Ok.
In spite of that, I never once thought we were out of it. In years past, yeah. But not this team. Not this year. In fact, it looked a whole lot like we were gonna show 'em the door again late in the game, thanks to a Rizzo walk, a Little League play by Grandal, and Javi at the dish. Not quite, though. So anyone shakin' cuz we're headed to LA for the next two oughta take a Valium. Think about it. Except for our staff, Javi Baez, Bryant and one notable AB from Montero, our bats have been sawing logs throughout the playoffs. And tonight, against LA's best pitcher, along with the help of Colonel Frank Slade behind the plate, we still almost won.
When our bats wake up — and you know they will — it ain't gonna be 72 and sunny in LA anymore. In fact, I predict a wicked Chicago storm to blow through Chavez Ravine for the next few days, with all manner of unseasonal disturbances raining down on their little mini-parade. This ain't over. You'd have to be blind, or Eric Cooper, not to see that.
Joe