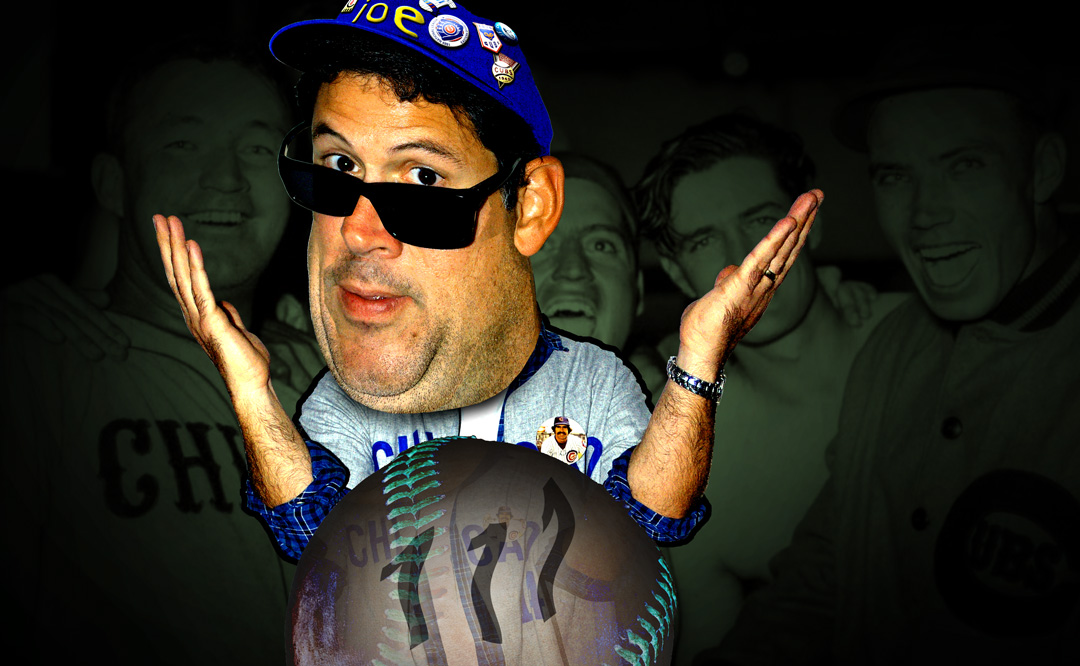 A few thousand Old Styles and about forty pounds ago, when I was a freshman, I dated this hot blooded Italian chicadoodle for a while. Her old man flew Corsairs with Pappy Boyington in the South Pacific. He was an Ace, too, whose face looked like somebody chiseled it outta granite … and none too carefully, either. He was about as broad as a house, spent some time coaching the US Boxing team, and had a temper that was perfectly suited for someone who'd been shot outta the sky a few times.
Thankfully, his offspring didn't look anything like him, but hoooooo boy … she had every bit of his vein-poppin' temper! I mean if Bashar al-Assad had just gotten the Marcellus Wallace "gimp" treatment from Zed — that kinda temper. BANG! KASHWACK! BAAAMMM! When doors started slammin', you knew she was on the war path. In her case, though, it was more like the war interstate highway.
Fast forward to opening night. Just when it looked like the Cubbies were about to pull a little of that World Series magic outta their seat cushions … KAPOOWWW! The Cards handed us a foundation-rattling helping of the angry girlfriend treatment in the form of Randal Grichuk. That shard of light peeping through the door to victory got vaporized by Grichuk's bat.
Can't say I liked that.
Not to worry, though. We're just toying with 'em. Think about it, pallie. After putting 17-1/2 games between us and the Cards last season and winnin' the last game of the playoffs in THEE best World Series ever, Theo does the equivalent of spotting your kid sister 19 points in a game of 21 by letting the devil incarnate — the Cards — make off with Fowler. (Fowler is dead to me, by the way.) Then, just to make things interesting, our lineup decides to close one eye at the plate Sunday night, Lester is about as sharp as a bag full of overcooked pasta, and Strop … well … Strop was Strop; the human question mark. And still — still —  we come within a Grichuk of winning anyway.
Let's just say I'm not worried.
Why? Cuz last night we gave the angry girlfriend treatment right back to St. Louis, turning Matheny's review of the last play of the game into a broken hinge in the House of Cards. Some killer base running early and an amazing grab in left by Almora didn't hurt either.
I'm thinkin' about 111 or 112 wins this season. Optimistic? I know, I know. Who am I and what did I do with the real Joe Schlombowski, right? Hey! Sue me for riding the wave, pal. I'll get off when I'm damn well ready … or when the Cubs turn back into the Cubs. Whichever comes first.
Joe
Next
WHAT'S THE OVER / UNDER FOR WHEN MANFRED SKATES ON TONIGHT'S CUBS-CARDS OPENER?